Home
Discover our product range
ANNOUNCEMENT
Changes in the Nowy Styl Management Board
Adam Krzanowski, co-founder and President, and Rafał Chwast, Vice President, will be joined by Małgorzata Naparło and Paweł Smaś as Board Members. Rafał Chwast is also going to take on the role of CCO (Chief Commercial Officer).
Learn more
Report
Sustainability Development Report
The latest edition of the "Make your space responsible" report for 2020-2021 presents the accomplishment of further ambitious objectives and commitments during a difficult period of the Covid-19 pandemic. Despite the global crisis, Nowy Styl has achieved more than 90% of its predefined goals related to sustainable development and corporate social responsibility. Explore our report and see how far we have come. Enjoy the read!
See our report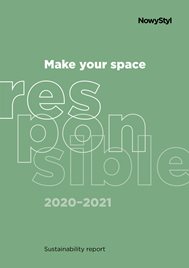 Let's make your space together
Take the first step towards your new office and contact us