Home
Discover our product range
KNOWLEDGE
Stockholm Furniture Fair: Nowy Styl & Kusch+Co presented their sustainable approach
Nowy Styl and Kusch+Co presented their products designed in harmony with the natural environment. It was an opportunity to introduce brand assumptions such as simplicity, transparency, and sustainability. Their leading motif was: in tune with nature, emphasizing the connection of the offer and the business approach to the natural world. The joint stand attracted a lot of attention from visitors.
SEE MORE
Report
Sustainability Development Report
The latest edition of the "Make your space responsible" report for 2020-2021 presents the accomplishment of further ambitious objectives and commitments during a difficult period of the Covid-19 pandemic. Despite the global crisis, Nowy Styl has achieved more than 90% of its predefined goals related to sustainable development and corporate social responsibility. Explore our report and see how far we have come. Enjoy the read!
See our report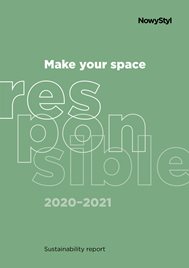 Let's make your space together
Take the first step towards your new office and contact us