Home
Discover our product range
KNOWLEDGE
Clerkenwell Design Week: see photos and video of the event
Clerkenwell Design Week is one of the most important design festivals in the UK. The world's leading brands showcase their achievements at the event. Among them were our two brands: Nowy Styl and Kusch+Co. Together they prepared an interesting program, which took place in a showroom in the heart of Clerkenwell. Take a look at the photo gallery and watch a video from the event.
SEE MORE
Report
Sustainability Development Report
The latest edition of the "Make your space responsible" report for 2020-2021 presents the accomplishment of further ambitious objectives and commitments during a difficult period of the Covid-19 pandemic. Despite the global crisis, Nowy Styl has achieved more than 90% of its predefined goals related to sustainable development and corporate social responsibility. Explore our report and see how far we have come. Enjoy the read!
See our report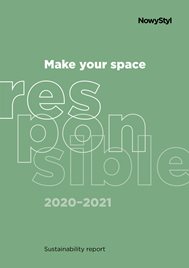 Let's make your space together
Take the first step towards your new office and contact us