About us
Thanks to our know-how, comprehensive offer and commitment, we have become one of the leaders in the furniture industry in Europe.

Our mission is to make it a healthier and more enjoyable experience no matter where you are, at work, traveling, or for entertainment. We do our work with passion and respect for the environment.
2500+

of spaces equipped with the best furniture solutions

100+

countries to which we ship products

29

showrooms in where we display our solutions
Meet the brands of Nowy Styl
Nowy Styl is both the name of our entire company and the largest and dominant brand. Apart from it, the portfolio includes 4 other brands, thanks to which we can offer our clients a comprehensive and extensive offer.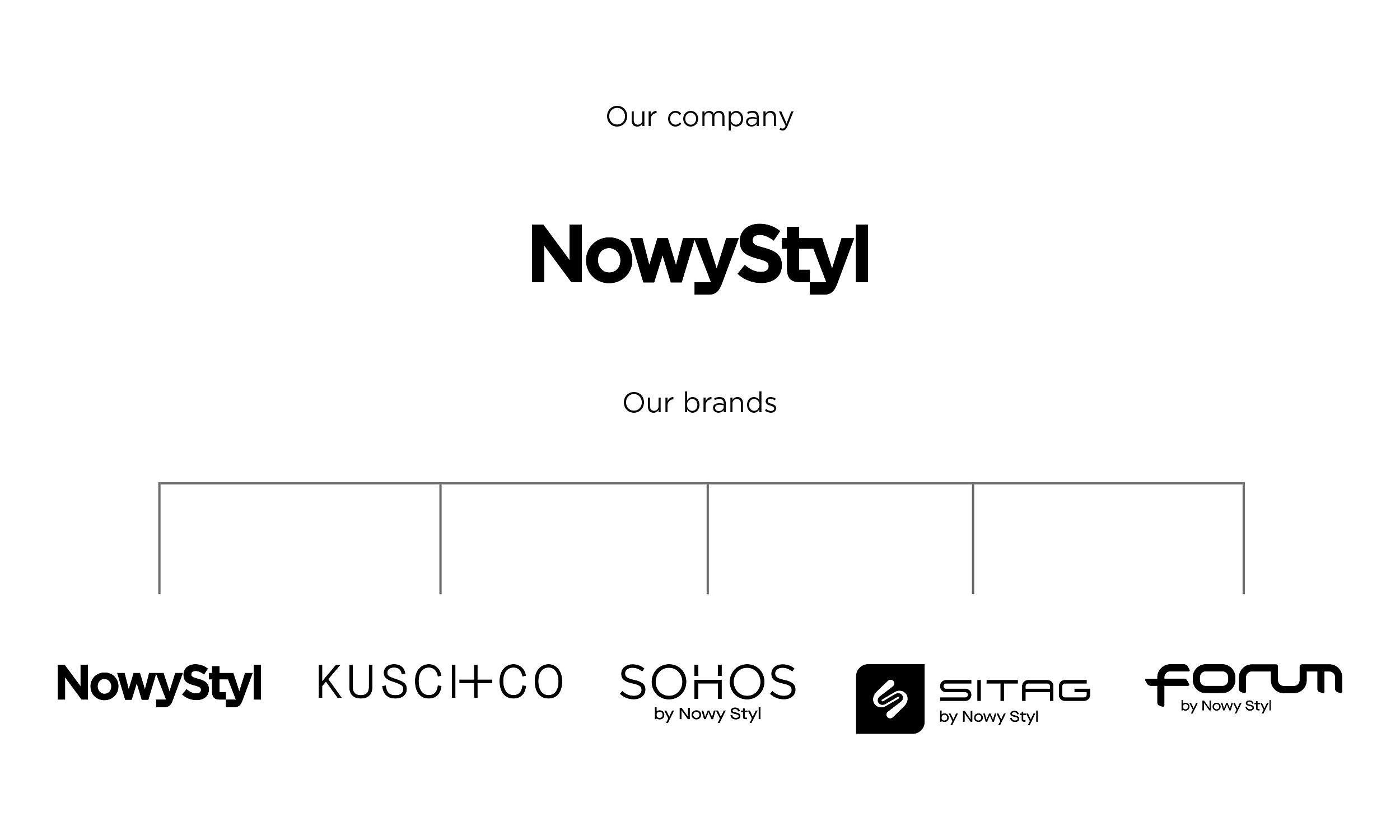 Meet the brands of Nowy Styl
Management Board of Nowy Styl
Adam Krzanowski

CEO & Co-founder of Nowy Styl

Rafał Chwast

Vice President of the Board of Nowy Styl and President of the Board of Nowy Styl International

Małgorzata Naparło

Member of the Board at Nowy Styl, Executive Vice President of Nowy Styl International

Paweł Smaś

Member of the Board at Nowy Styl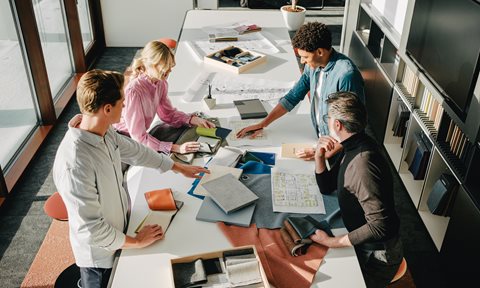 Our values – our strength
The Nowy Styl team consists of people of different specialties and ages, coming from different countries and cultures. What unites us are values that are common regardless of the place of origin and profession.
We are ambitious

Our company is made up of ambitious people, young at heart, open to self-improvement and ready to take on challenges.

We are tolerant

Regardless of the country, faith and origin, we strive to make everyone feel welcome in our team.

We are honest

Trust is built over the years, which is why we attach great importance to being reliable.

We are humble

We are constantly learning: we are working on offering better and better products and a better understanding of our customers' needs.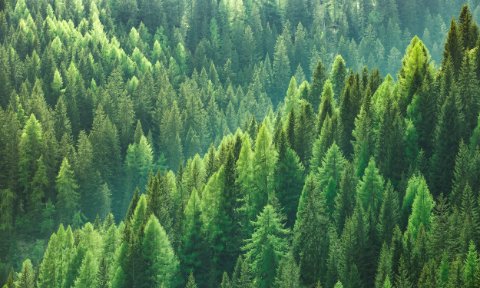 We act responsibly
We see ourselves as active participants in the process of shaping a world friendly to future generations. Learn about our sustainable development strategy – how we care for people, products and the cleanliness of our planet.
Our actions
Our history – the beginnings
Polonez and three chairs

The founders of Nowy Styl are brothers – Adam and Jerzy Krzanowski. In 1992, they set up a company with 7 employees and 3 models of chairs. At the beginning, they deliver furniture by polonez (a car model popular in Poland in the 90s) all over the country. A year later, over 100 people work in Nowy Styl. The brothers focus on their own production and invest every zloty they earn in the company. In the 90s, they gradually gain customers, first in the East, and then in many European countries.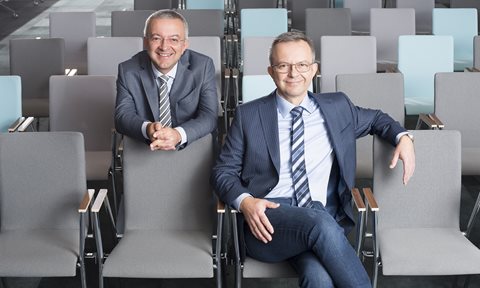 We are developing
The first million chairs

Our company ends the 20th century spectacularly, selling its first million chairs. Soon, taking care of the comprehensiveness of our offer, we start producing office furniture. In 2006, we create a brand known today as Forum by Nowy Styl. Under the new banner, we are preparing stadium seats for the Football World Cup and UEFA games. A year later, we celebrate the total sale of as many as 50 million chairs.

We are expanding the portfolio of products and brands

We develop in business to reach new customers and market segments. In 2011, we welcome the Grammer Office brand, and in 2013, the Rohde & Grahl brand. At the same time, we are building one of the most modern and largest furniture factories in Europe, which we open in 2014. Our products are created faster and are better suited to the needs of our customers. In the following years, the brands of Sitag, Stylis, Kusch+Co and Majencia join our portfolio.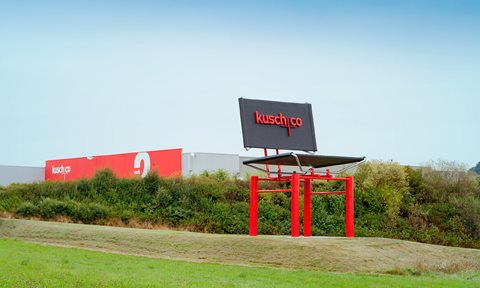 Gaining knowledge and markets
New products, new customers

We increase our production capacity and develop new products. Our internal Research and Development Centre helps us in their preparation. It is here that we gather outstanding engineers and technologists who develop and improve our products. We implement larger projects and take on new challenges. We more and more often undertake large orders – for example, for several office buildings for one company like we did for Siemens or for thousands of seats for the World Cup.

Building know-how

From a manufacturer, we are smoothly becoming an expert in arranging friendly workplaces. Thanks to building our own know-how and a team of experts in the fields of workplace strategy, design and acoustics, we can support our clients not only with products but also with services.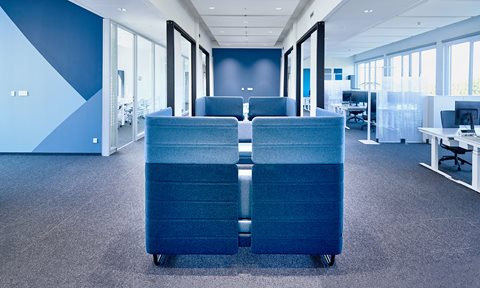 Present and future
Today

We work with brands recognisable all over the world. We arrange interiors throughout Europe, among others, for Toyota, ABB, Siemens and Deloitte. We are becoming more and more involved in CSR activities and ecological initiatives, reducing our carbon footprint. Our team consists of several thousand employees, and our portfolio includes several hundred pieces of furniture and chairs, which we sell in over 100 countries.

Tomorrow

This is a story that is still being written. Contact us if you want to become a part of it.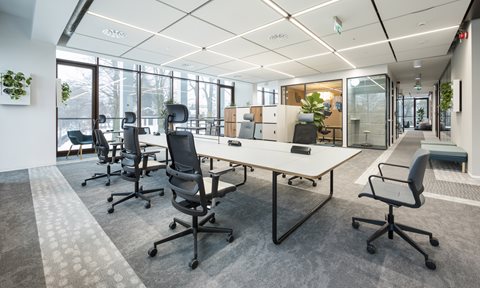 Let's make your space together
Take the first step towards your new office and contact us