Ecodesign confirmed by a certificate
What are the characteristics of a green product? Does it need to be made from recycled materials? Or is it enough if it has environmentally friendly packaging?
Ecodesign is all about a wholistic approach to product, where environmental aspects are considered at every step of product life cycle. Sometimes just one component can make final processing impossible, generating waste, which is why it is so important to consider ecodesign guidelines from the concept up to product disposal.

Following the current environmental trends, Nowy Styl has just implemented an ecodesign management system compliant with the EN ISO 14006 standard (Environmental Management Systems - Guidelines for incorporating ecodesign). Based on our previous experience of implementing and certifying green office solutions, we have developed procedures and trained employees to even more efficiently create new products that are "cradle-to-cradle" environmentally friendly.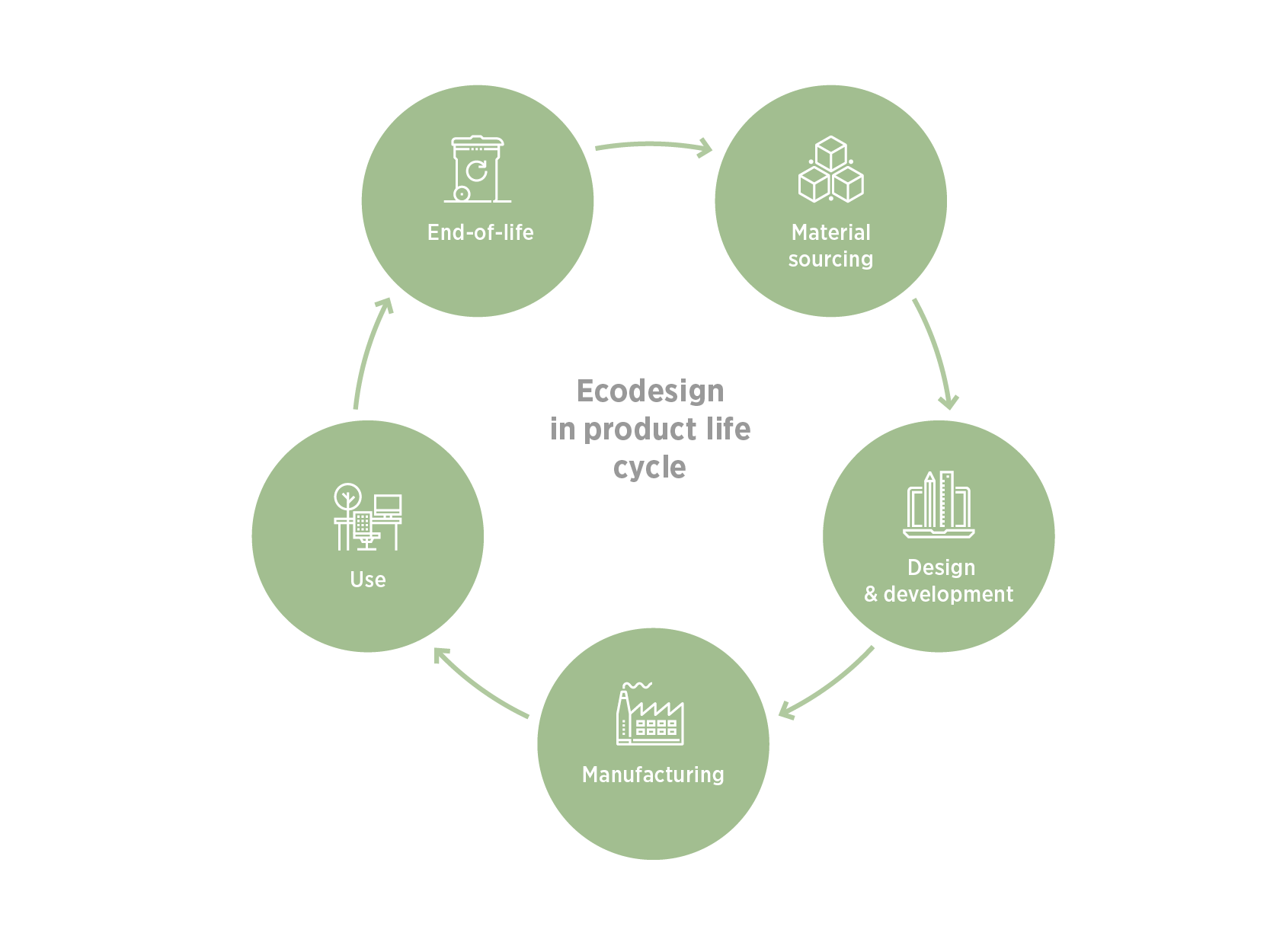 In the new procedures,
environmental requirements are parameterized
and defined on several levels, in conformity with legal requirements and leading office furniture and management system certifications. They encompass broadly understood environmental aspects, such as:
design for recycling,
extension of product life (availability of spare parts, components that are replaceable, expandability)
reduced energy and water consumption in the production process,
efficient use of materials,
increased share of recycled (including pre-consumer and post-consumer) materials and materials from sustainable sources,
reduced volume of packaging materials,
elimination of chemical substances and products that pose a threat to man and the environment (including substances from the REACH list and the Candidate list, formaldehyde and VOCs).
The implementation of the ISO 14006 and the new ecodesign procedures was possible thanks to Nowy Styl's experience in implementing products with environmental certificates. This implementation is an extension of our environmental management compliant with the ISO 14001, which has been a mandatory standard for all Nowy Styl companies for many years.
Jan Szpak
Management Representative for Management Systems at Nowy Styl
Ecoproducts from Nowy Styl

FEMB Level
Blue Angel
NF Environnement
NF-Office Excellence Certifié
FSC®
GS Certificate
As interest in products that are more environmentally responsible is growing, the world is struggling with greenwashing. Thanks to the product certification and the environmental management systems, both we and our customers can be confident that environmental aspects were actually considered in the making of the products we offer.
Rafał Styrkosz
Product and Certification Support Team Manager
In 2021, the list of our green solutions grew to include those with FEMB LEVEL certificate - the first accredited European certification system to incorporate EU legislation, green public procurement policy and EU guidelines for the circular economy. Our chairs (
Xenium
,
Xilium
,
So-One
, Wing), tables and desks (
Convenio
, Xio,
Xio 2.0
,
eModel 2.0
) and cabinets (K40) have obtained certificates of the highest level, i.e. LEVEL 3.
In 2022, we will continue with more certification processes to adapt our products to the requirements of the Scandinavian market.
Furthermore, an increasing number of our furniture hold an
EPD card
(Environmental Product Declaration, 3rd level declaration) - a globally recognized declaration that describes in detail the environmental impact of products. A detailed analysis of product life, energy consumed in the manufacturing process and recyclability allows us to even more accurately respond to our customers' pro-environmental requirements and ambitions.