Reports
Reports
We include our practical and theoretical experience in publications we compile to inspire and educate our partners and clients.

We encourage you to read them all!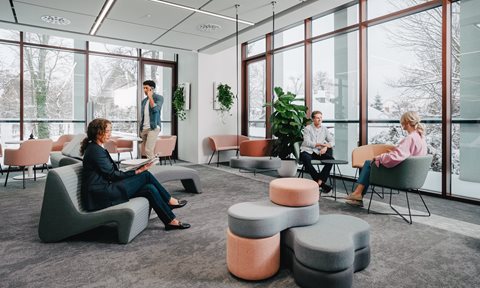 Reunion office: let's be a team again

How to create an office your employees will happily return to? How to organise the space so that it supports the process of reinforcing and rebuilding relationships after the pandemic? How to arrange spaces in the office for cooperation and teamwork? How to feel like a team again? Find answers to these questions in our report titled "Reunion: a new office reality."

Workspace of tomorrow. Communication Hub

This report presents our most interesting solutions for workplace organisation in the nearest future. It is designed as a source of inspiration and assistance in creating the office of tomorrow. Remote work? Hybrid work? How will a change in work arrangement impact the layout and functionality of the offices? We warmly invite you to read the report!

Welcome back... to the office! See how to prepare your office for the return of employees

More and more companies are choosing to reopen their offices. Our experts have prepared a report entitled "Welcome back... to the office!", in which they have brought together information and advice on how to properly prepare a space for the return of employees. The document is a must-read for all those responsible for ensuring safe working conditions in the "new normality".