Reducing CO2 emissions at Nowy Styl
We invite you to read a summary of our efforts in reducing greenhouse gas emissions.

Company Policy

The on-going discussion of climate change and the environment gained great following in the last couple of years. Nowy Styl has been conscious of the emissions that have contributed to this climate change and has taken responsibility to ensure that its business activities and products are conducted in a sustainable and responsible manner.

Nowy Styl is also undergoing audits by EcoVadis. This year, the company achieved the highest possible rating and was awarded the EcoVadis Platinum Medal. Only 1% of companies around the world approaching certification get such a high score. This confirms that we manage processes efficiently and can guarantee the security of cooperation.
CO2 Objectives

As of 2019 Nowy Styl uses the Dutch CO2 Performance Ladder - sustainability support system for companies to manage their carbon footprint and reduce CO2 emissions. According to its methodology, we calculate the carbon footprint for Nowy Styl in Poland, in Germany (Nowy Styl Deutschland GmbH) and Nowy Styl in the Netherlands.

In our calculations and efforts, we focus on the organization's direct and indirect emissions - which translates to Scopes 1 and 2 according to the GHG Protocol methodology.

Nowy Styl has the objective to reduce 2,1% annual until 2025.

Scope 1 – direct emissions from fuel consumption at sources owned or controlled by the organisation: 10%
reduction (previously 1.3%) in 2025 compared to 2018.
Scope 2 – indirect emissions coming mainly from the consumption of electricity produced in external installations: 40% reduction (previously 27%) in 2025 compared to 2018.

Scope 1 and 2 objective Nowy Styl*
Nowy Styl produces 30% less CO2 emissions in 2025 compared to 2018*

*These objectives are related to the annual turnover of Nowy Styl
CO2 emissions in 2022

The direct GHG-emissions of Nowy Styl in 2022 are 10 143 t CO2 (scope 1), the indirect GHG-emissions are 8 027 t CO2 (scope 2) and business air travel are 463 t. This calculates to a total of 18.632 ton CO2-emissions in scope 1, 2 and business air travel for 2022.

This is specified in the following objectives for scope 1 and 2:
• Scope 1: 10% reduction in 2025 relative to 2018
• Scope 2: 40% reduction in 2025 relative to 2018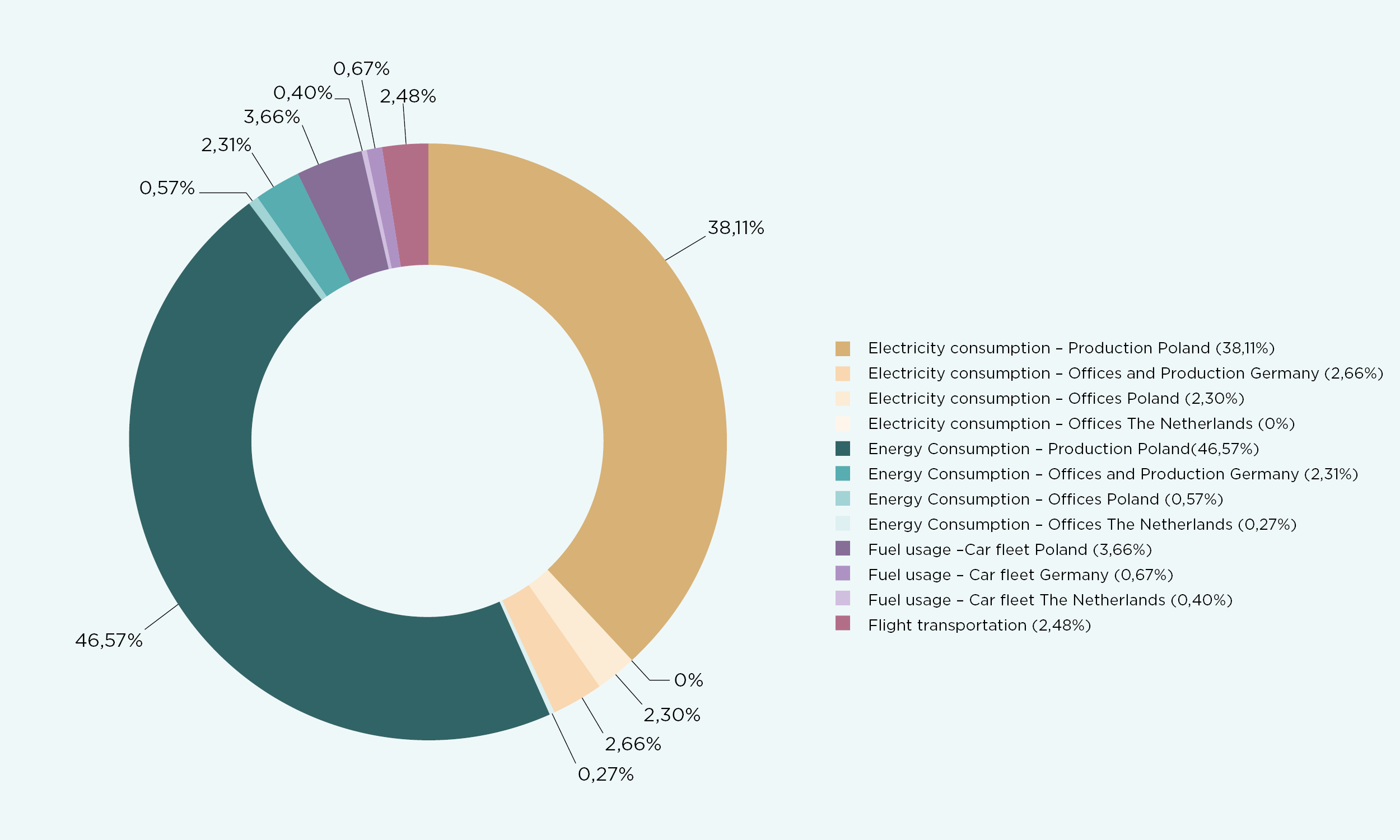 Progres

In 2022 the CO2-emissions where 43% reduced in comparison with the results in 2018. The main reason for this is the fact that we bought green energy from wind and solar and the turnover was increased which let to a better ratio of the CO2 versus turnover.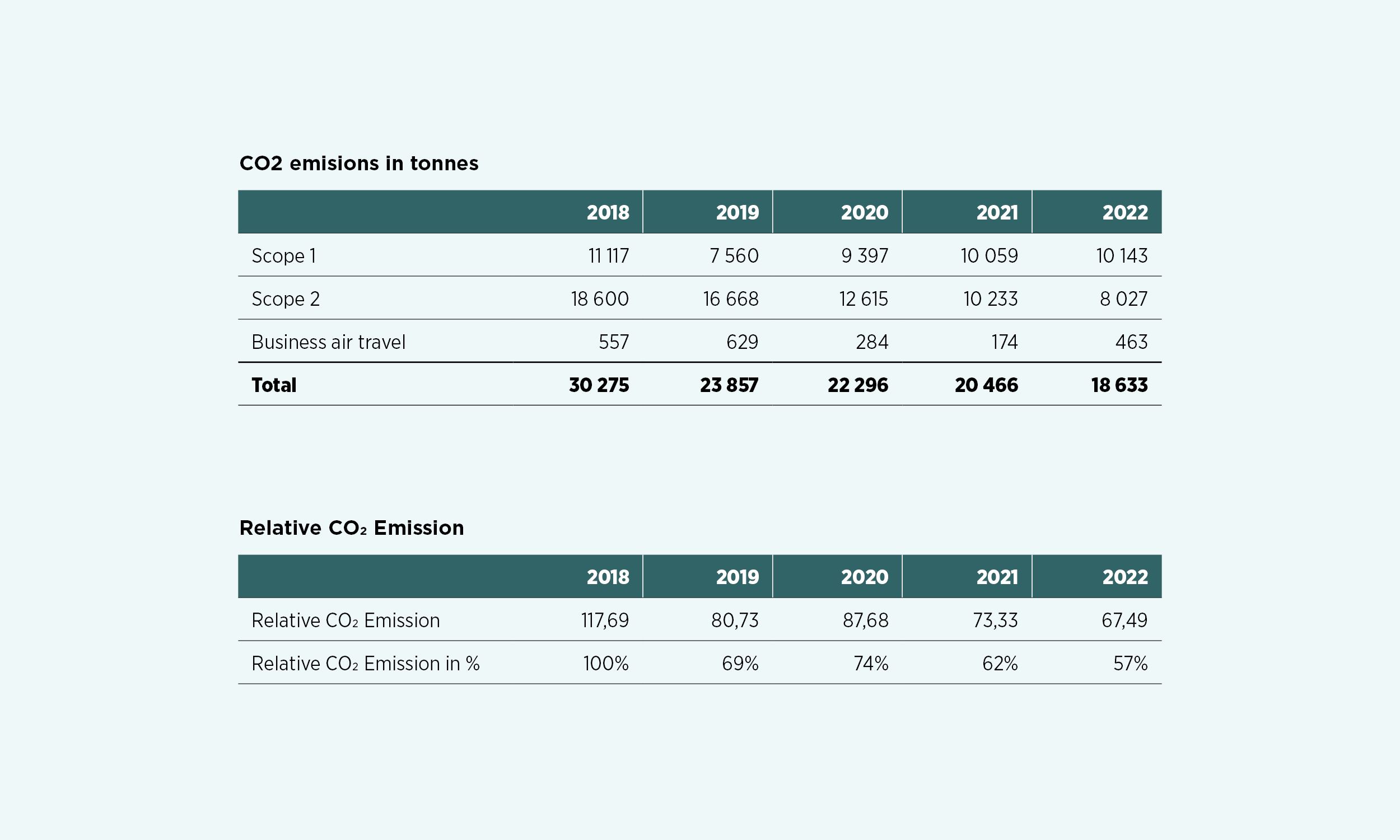 What we have done in 2022?

COVID-19 influenced the CO2-emissions of Nowy Styl less then in 2020 and 2021. The COVID-19 situation also resulted in a better use of the videoconference system. The videoconference system was also structural improved to encourage frequent use in the future.

The most important reduction measure is the purchase of 5.500 MWh of sustainable electricity in Poland, generated from wind or solar sources. Also the Dutch offices are buying green energy from The Netherlands.

Proposed Reduction Measures
Application of sustainable electricity by wind turbines or solar at production facilities in Poland;
Buy energy efficient machines to optimise production;
Energy efficiency of 2% in heating in the German offices;
Use digital conference system(s) to minimize the number of flights;
Dutch offices are looking into going over to LED lighting in the offices;
Dutch offices are choosing for full electric vehicles, the goal is to have four vehicles in 2025.
Contact us
We are always in search of possibilities to reduce CO2-emissions. If you have ideas, please let us know.