Workspace Expo Paris
The complementary brands: Nowy Styl and & Kusch+Co welcomed the visitors from 4 to 6 April at their common stand and presented their products designed to make the office pleasant and supportive.

With the connotation of a Parisian monument, we presented new products and solutions for four different space zones. The event was an opportunity to experience our fresh products first-hand, address the needs of the new working environment and simply enjoy live meetings over a cup of coffee.

The arrangement of the stand used the associations of the arch and the trendiest colour of the season – pink. In addition to simple, soothing nude shades and energetic green. Just like the modern office environments, the stand was composed of various spaces, like welcoming area, collaboration space, and the chill-out area.
As the idea behind Workspace EXPO in Paris 2023 was "I love my workspace", we took the opportunity to showcase our latest designs that facilitate creating the most beloved spaces for work. In addition, we wanted to bring nature closer to our customers, so we included greenery on the stand and gave visitors a plant to take home – a miniature forest in a jar, which looks beautiful and requires no care.
Amandine Nagalingam
Marketing Manager at Nowy Styl France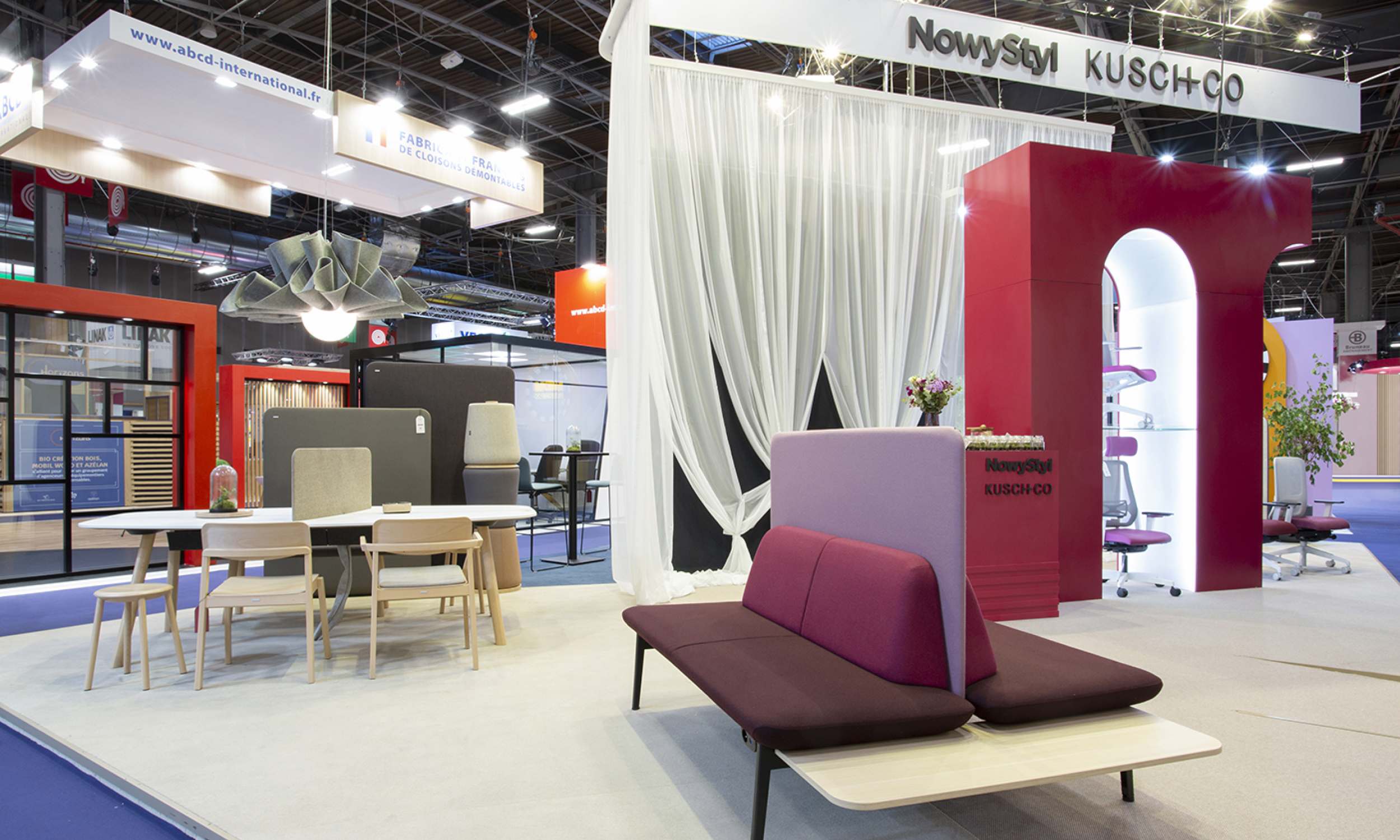 Products that will make you love your workplace
The modern office is a place for meetings and creative collaboration. This type of work requires the right arrangement to ensure that the space meets the requirements of each employee. That is why we want to show you the possibilities offered by products adapted to the agile working style.

During the Workspace Expo in Paris 2023 Nowy Styl presented among others:

WithME – a collaborative chair that reflects 100% of new work culture which promotes team working, mobility and readiness to switch between topics, people and places. The compact size and lightness are just another advantages that make this chair a perfect solution for home office as well.

Offa – a set of smart, multifunctional, flexible and mobile pieces of furniture that meet the expectation of workspaces where agile style of working is functioning on daily basis. Line includes plenty of models to enable free arranging comfortable meeting and brainstorming areas.

For Kusch+Co, beloved workspace provides a good balance between different functions, and enables people to use the space in accordance with their working style – because people are as different as the tasks they perform.

Kusch+Co featured latest launches designed to create beloved workspaces, among others:

Genaya, Kusch+Co (coming-soon) – modular soft seating designed to create infinitely versatile configurations for welcoming, waiting or collaboration spaces; for creating meet and greet spaces. (areas) visit our stand

The Creva Family, Kusch+Co – prioritizing the needs of the individuals, Creva family creates an ecosystem of places to work. The collection offers multiple possibilities for people to come together in connect and create spaces, to meet one-on-one, while at the same time encompasses spaces perfect for deep concentration and ideation tasks;

V-Care, Kusch+Co – created to foster user's comfort, the chair combines progressive design and hygienic qualities. Transposing the solutions from the highly demanding business sectors to the office environments with the highest care about every millimetre of design, comfort and safety, V-Care is a chair that informs any space.

At the stand you could also find other products of these brands including: Souly and Vapaa chairs, Brainy (Nowy Styl), Njord and Embla (Kusch+Co).

See photos from the event