We know how to design an office to meet employee needs
An office is not just a building. It's more than a space to fill with furniture. An office is a place that supports, encourages and facilitates the performance of people's daily duties, while sometimes also acting as a catalyst for ideas. If it's arranged well and, most importantly, tailored to the needs of the people who work there, it can have enormous impact on how people can do their job, and thus on the success of the company. We know how to design an office tailored to your needs and we have a workplace research and consulting service in place to help you with this.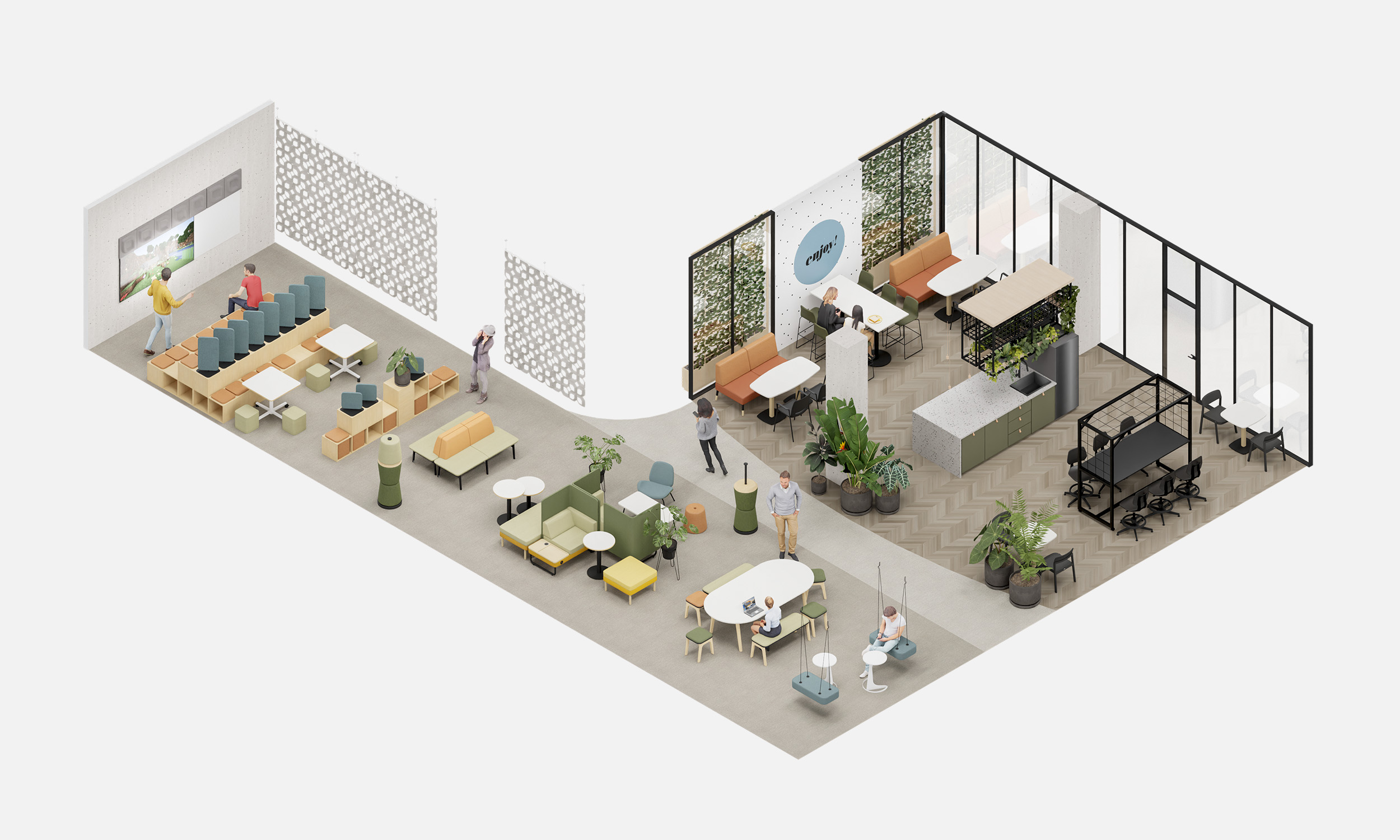 What challenges are organisations struggling with today?

The pandemic and the related growth of remote work have significantly affected the nature of our work, our individual preferences and priorities and, above all, the functions that an office space needs to perform in the 'new' reality. The new reality has brought about a number of challenges for organisations, some of which include encouraging employees to return to the office, fostering relationships in dispersed teams and arranging office spaces to meet the requirements of the present era. There is no single universal solution to these challenges. For an office space to match an organisation, it should in each case be tailored specifically to the activities and tasks performed by its users and reflect the culture and atmosphere of the company, instead of merely copying a current fashion or trend.
Behind every job is the person who does it – their needs, expectations and values. Like any other area of our lives, the professional career follows a certain cycle. It is a good idea to recognise its stages, as well as related activities and responsibilities. It's also a good idea to understand your employee's life cycle, their changing needs and living conditions and take them into account when arranging an office space.
Aleksandra Szeląg
Workplace Consultant at Nowy Styl
How do we work?

Office rearrangement or relocation are long-term processes that are likely to cause resistance or reluctance among employees. Thanks to the expertise and experience of our interdisciplinary team of professionals, we can support your organisation right from the start by assessing your existing office space, exploring the needs of your company and employees at all levels of the organisational structure and supporting your HR (or other) team in carrying out the complete change process. In our work, we use our proprietary, proven research methodology, good practices from our previous projects and the latest developments from the world of science and business.
Workplace Strategy || Workplace Research
As we analyse a workplace environment (Workplace Strategy), we identify both what's missing and what's expendable in the present office space. We evaluate the functional zones of your existing office and how your teams are distributed. We learn about the functioning of the organisation and how the employees adapt to the office space. Using our proprietary, proven research methodology, we identify the work styles of departments/teams and the resulting spatial needs. We identify the needs and expectations that departments and individual employees may have with respect to the new office. The entire research process is completed with an extensive report offering a cross-sectional analysis of the collected data, which, combined with our experience and expertise, allows us to formulate key recommendations for changes to the office space.
Workplace Change Management || Change Management Process
In order for your new office space to have a positive impact on the employees, you need to communicate what's happening in the project to them on an ongoing basis, engage employees in the office creation process, show them how to benefit from the new space as well as evaluate and put some final touches on the office space once employees are already working in it. We can support your organisation in each of these areas through dedicated training and workshops or by creating communication materials tailored to your specific case.
The outcomes of our work with clients

The efforts of our Workplace Consulting team have brought the following results:

• Improved employee satisfaction with office space

Based on thorough analysis of employees' needs and expectations with respect to office space at all levels of our client's organisational structure, we developed office arrangement guidelines which, once implemented, resulted in a 12% increase in employees' overall satisfaction with the office.

• Improved efficiency of office space utilisation, and thus reduced fixed costs

An office space concept proposed based on a study of our client's working environment has significantly improved the share of areas that effectively support the daily work of their users, while a Desk Sharing concept we implemented allowed for the amount of rented office space to be cut down by almost 60%.

• Unified office space arrangement standards across all local offices of the organisation

A resource called Guidelines, which we have created based on a study of the work environment and the needs of the organisation, as well as pilot office designs allowed us to develop a uniform standard of functional space arrangement for all office spaces of our client throughout Europe. New office designs developed in line with that resource ensure simple navigation for users, symmetrical layout across all locations, strengthen a coherent image of the company and optimise costs and the delivery process.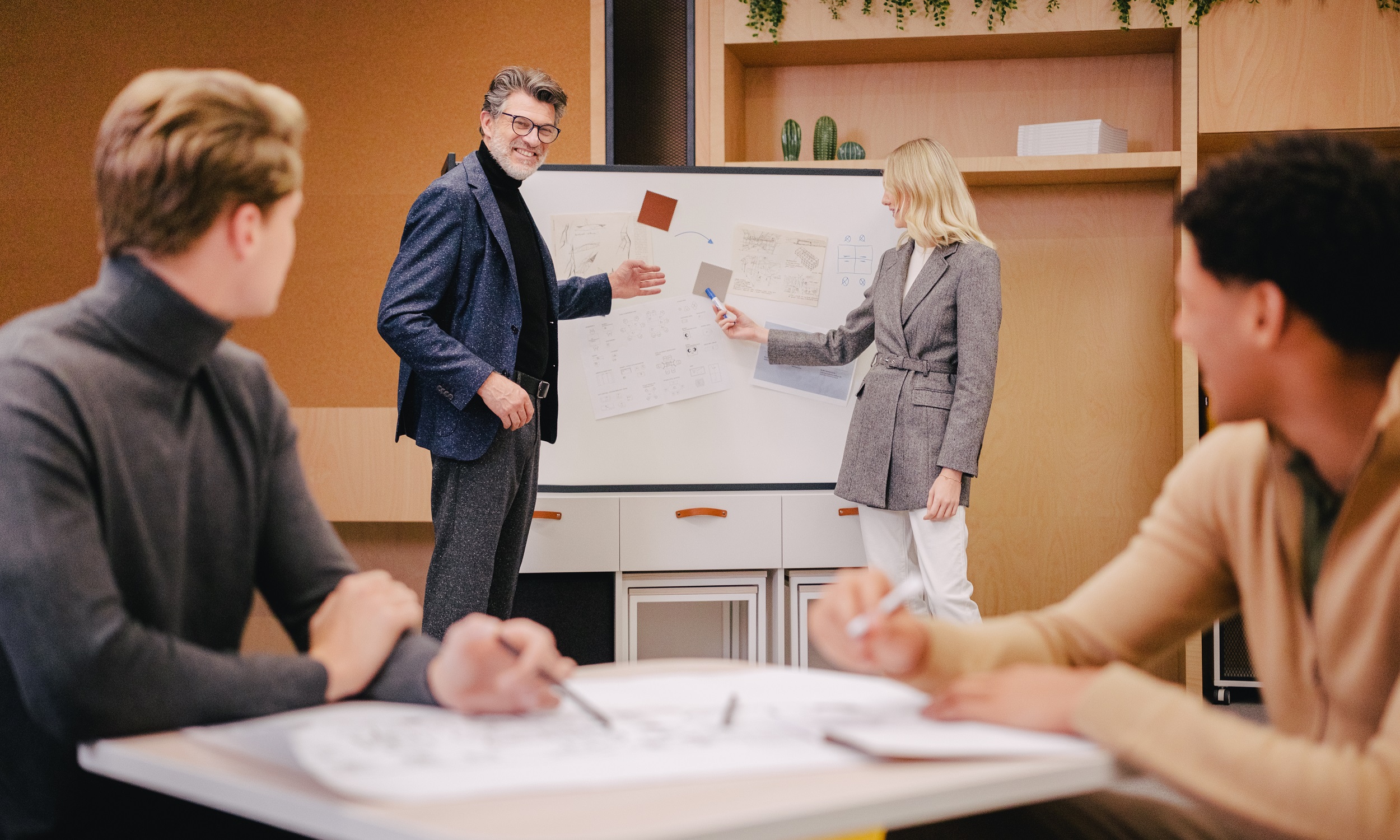 We aim to translate the expertise and experience we have accumulated into publications that we hope will inspire and educate. Our materials are founded on both available literature and our original qualitative and quantitative research. Visit the
Knowledge tab
on our website to see our latest report: Reunion - a new office reality. You can Download it to find out what the 'office of the future' could look like.
A study of your work environment and support for your change management process are some of the many Nowy Styl services that you can benefit from when arranging your office space. Find out more about
our know-how
from our website.
Do you need to tailor your office to the diverse needs of your employees? Our experienced team of workspace consultants can help you with this.
Let's make your space together
Fill in the contact form to get in touch with us: