Reducing CO2 emissions at Nowy Styl
2021 was a record year on Nowy Styl's journey so far to decarbonize the company's operations. We reduced our CO2 emission rate in relation to 2018 by as much as 38%! We invite you to read a summary of our efforts in reducing greenhouse gas emissions.

Carbon footprint - our key climate impacts
As of 2019 Nowy Styl uses the Dutch CO2 Performance Ladder - sustainability support system for companies to manage their carbon footprint and reduce CO2 emissions. According to its methodology, we calculate the carbon footprint for Nowy Styl in Poland, in Germany (Nowy Styl Deutschland GmbH) and Nowy Styl in the Netherlands.

In our calculations and efforts, we focus on the organization's direct and indirect emissions - which translates to Scopes 1 and 2 according to the GHG Protocol methodology.
Which processes are responsible for CO2 emissions in Nowy Styl and how do we reduce them?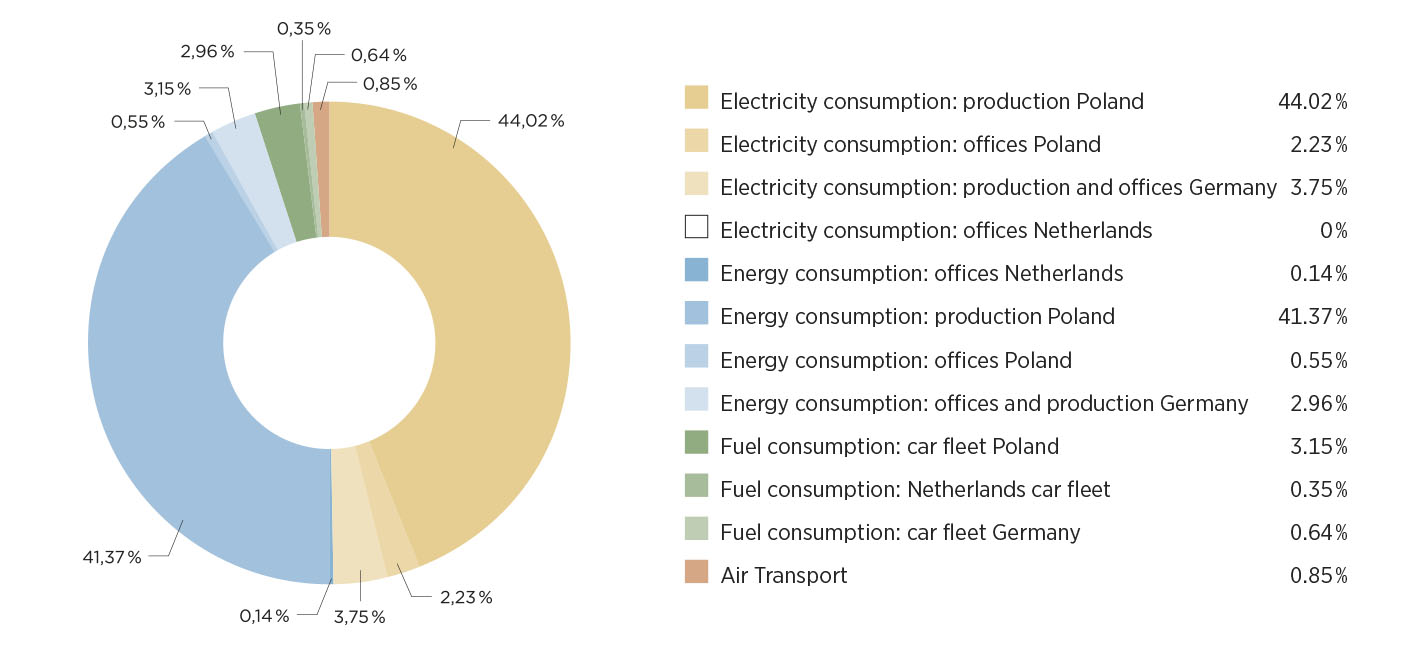 Nowy Styl is a manufacturing company, so the majority of our greenhouse gas emissions are generated by our production locations in Poland. In 2021, 41% of CO2 emissions were generated by our own installations - gas boilers and biomass heat production, and 44% by electricity purchased to power our facilities in Poland. The share of the latter in the organization's carbon footprint decreased by as much as 6% compared to the previous year, thanks to a significant increase in the share of green energy in our energy mix (in 2021 green energy accounted for 32.5% of purchased energy).
Our business travel is responsible for approximately 5% of the emissions:
Our fleet fuel consumption accounts for 4.14%, so we are in the process of replacing our car fleet with electric and hybrid vehicles. In addition, in the Netherlands we are a member of the Terberg Business Mobility and we offset all car travels through Climate Neutral Group tools.
In 2021, business flights accounted for 0.85% of our indirect emissions. In order to reduce business trips, we promote the use of a video conferencing system.
Reduction targets adopted in 2019 - CO2 Performance Ladder certification commitments
Our target defined in the management system is to reduce carbon emissions by 15% in 2025 compared to 2018.
To achieve this average reduction, the target was divided into Scope 1 and Scope 2:
Scope 1 - direct emissions from fuel consumption at sources owned or controlled by the organization and process emissions: 10% reduction in 2025 compared to 2018.
Scope 2 - indirect (energy) emissions, which are mainly generated in the production process (electricity, heating, process steam): reduction of 40% in 2025 relative to 2018.
CO2 emissions reduction - data based on our calculations for the CO2 Performance Ladder certification

A lot of initiatives completed in 2019-2021 have generated significant results - in 2021, our Scope 1 and 2 emissions were 38% lower than in 2018 (the data are based on our calculations and an official confirmation of the figures will come in September 2022, after the CO2 Performance Ladder certification annual audit).