CSR Report
Make your space responsible – new CSR report by Nowy Styl

At Nowy Styl, we believe in sustainable development. This is the underlying idea behind all our actions: from raw material procurement to production, supply chain, and giving our products a second life. See how we tackle sustainability challenges in each area of our business.

We would like to present to you the latest Sustainable development report covering the period of 2020-2021 and titled "Make Your Space Responsible". This is a valuable source of knowledge for employees, clients, and suppliers, as well as for our followers and all those who are interested in the Nowy Styl operations.
Nowy Styl is a production company whose operations have a global range. That's why we consciously observe the impact we have on the environment and local communities, and we try to minimise or compensate for any adverse effects. We define specific goals within our key areas of interest and every two years we follow up on them in the Sustainable Development Report.
The latest edition of the "Make your space responsible" report for 2020-2021 presents the accomplishment of further ambitious commitments during a difficult period of the Covid-19 pandemic. Despite the global crisis, Nowy Styl has achieved more than 90% of its predefined goals related to sustainable development and corporate social responsibility.
See our report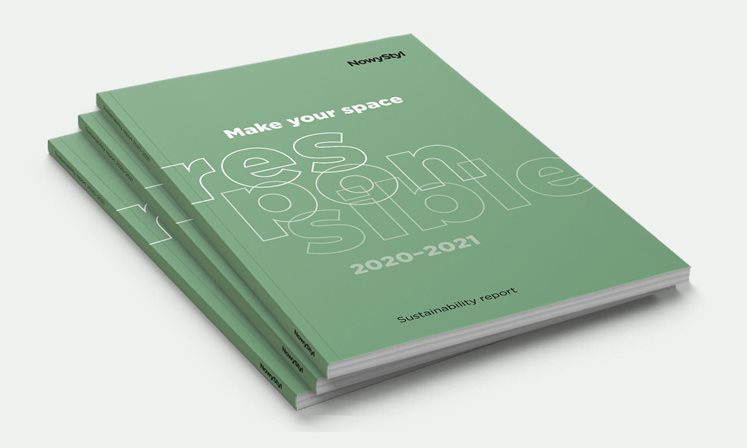 What else can you find in the report?
the implementation status of the company strategy in 2020-2021,
a detailed description of the production process and product portfolio,
information on how we manage and contain our environmental impact,
supply chain, i.e. from raw material procurement to production, to distribution,
information on the workforce structure, employee benefits, and workplace conditions,
types of support provided to local communities.

The report is based on the Global Reporting Initiative Standards. It was also subject to external review by Deloitte.

The 2020-2023 "Make your space responsible" report is available on our website in the tab titled Responsibility. Due to our environment-friendly approach, the report is printed in a limited number of copies and available for browsing in our showrooms and offices.