Clerkenwell Design Week: see photos and video of the event
Clerkenwell Design Week is one of the most important design festivals in the UK. The world's leading brands showcase their achievements at the event. Among them were our two brands: Nowy Styl and Kusch+Co. Together they prepared an interesting program, which took place in a showroom in the heart of Clerkenwell. Take a look at the photo gallery and watch a video from the event.

3 days, 400 events, over 30,000 participants and 10 exhibition venues to visit. At the center of the design world, Nowy Styl and Kusch+Co could not be missed. We refreshed our London showroom especially for the occasion.

We invited our guests to the meetings with the slogan "The time is now". We wanted to encourage a focus on current human needs, the experience of the <<here>> and <<now>>. In the program we prepared several highlights on topics such as sustainability, well-being and design.
Feel the vibe of design week
Meetings, Designer Talks, food&drinks, product tests and more. See what was happening in our showroom during this year's Clerkenwell Design Week. Watch the video.
Your browser does not support the video tag.
The Clerkenwell Design Week in figures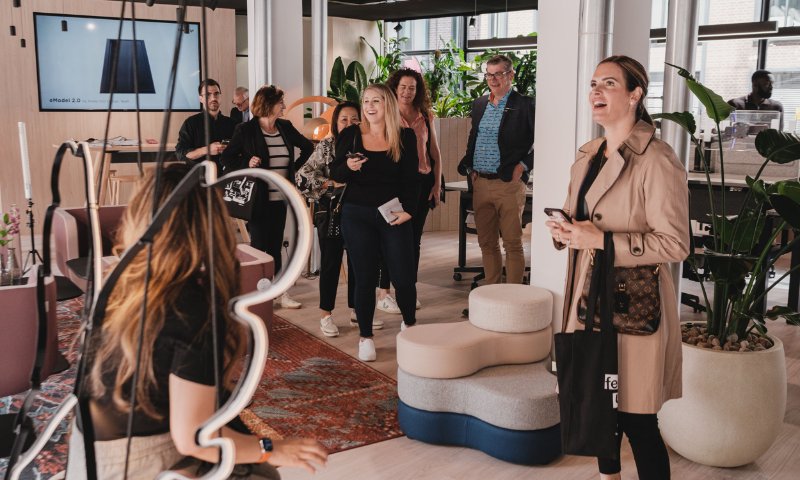 1 refreshed showroom
456 square metres of space
3 days
30 hours of meetings
2 meetings with designers
Learn more about Nowy Styl and Kusch+Co products

The stars of the showroom were our new launches. See what products from Nowy Styl and Kusch+Co were available to see and test during the Clerkenwell Design Week.
Brainy

Brainy is a mobile workstation designed for individual, focused work. It is the perfect solution for any setting that requires concentration, providing a high level of acoustic comfort that enhances productivity during tasks that demand greater focus.

Offa

Offa is a furniture line that consists of over dozen of models that enable building flexible agile-based workspace. All pieces are mobile so the office gets adaptable and responsive to changing needs of collaborative teams.


Vapaa

Today's working style involves communication, exchange of ideas, formal and informal meetings but also work in focus and concentration. The Vapaa line has been designed to meet all these needs. It interacts with its users. It's functional and timeless.

Genaya

Genaya by brodbeck-koepp design is a soft seating series that offers the possibility of creating extremely versatile configurations, regardless of the size of the space. It was created with focus on simplicity.

Bound

Designed by Karim Rashid, this inspiring furniture series on the one hand is the epitome of contemporary design and on the other, thanks to its soft lines, exudes an aura of cosiness adding an inviting feel to any space.


beWise

Functionality based on our knowledge and experience. beWise is the quintessential combination of design knowledge and experience.


See a photo report from the three days of the Clerkenwell Design Week
Let's meet in London showroom!

You don't have to wait until the next edition of the design festival to visit our showroom. Our UK team are looking forward to meeting you there. Visit us, test our products and let's talk about furniture solutions from Nowy Styl and Kusch+Co.