Agile office vs Agile-inspired office. Similar, yet different


When the pandemic forced us to work from home for a while, we grew to appreciate the value of office space, but now we expect much more of it. We have learnt more than one lesson in these hard times, and now we can see that flexibility is the key, along with the ability to adjust to the changing reality. We expect to see the same qualities in our work and in the space where we perform our everyday tasks. Some companies believe that Agile is the answer to the challenges posed by the new reality.


Agile office

What is Agile?

The early 1990s saw dynamically changing business needs and increasing client requirements. The intense development of new technologies and a need for modern, innovative software highlighted the limitations of the previously popular work model. The cascade model proved inadequate for some projects – it was especially true of high-risk projects.

IT pioneers spent years wondering how to improve the process of creating new software, to respond to the requirements of the modern day rather than be left behind. They wanted a solution that would satisfy the client's expectations and ensure the high quality of final products.

Finally, during an informal meeting in February 2001, a Manifesto for Agile Software Development was formulated – a summary of generally available principles and values shared by all methods and solutions referred to as "agile."

Agile methods – based on agile management – are based on the principles and values inherent in the Agile philosophy, which is best summarised as flexibility, transparency, and common sense.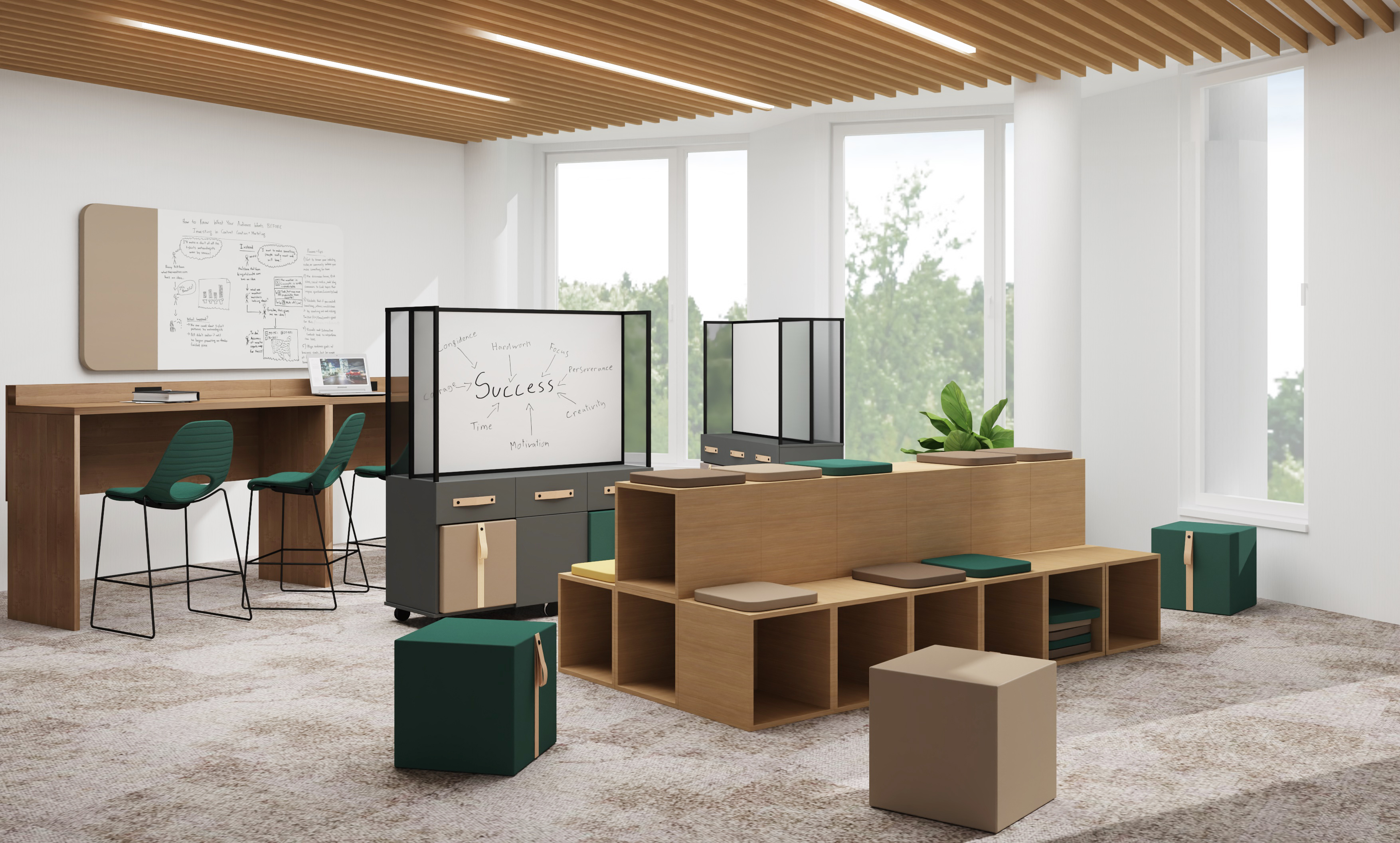 Agile means responsive
When comparing the traditional cascade model and Agile philosophy, you will instantly see that Agile enables much more flexibility and freedom at work. This philosophy entails readiness for and openness to change. Change itself is seen as an opportunity for growth and improvement.
CASCADE MODEL
long wait for the final product - the client only sees and receives the final version of the product
the project continues in stages, according to a predefined plan
initially, the project budget, scope of work and schedule are precisely defined
good for large, complicated projects based on structured teamwork, considerable predictability, and control
AGILE PHILOSOPHY
the client receives smaller parts of the final product at regular intervals
the client inspects these parts and evaluates them, but is free to use them as they come
agile philosophy means you can't plan all the stages in advance before the final product is arrived at. Each step is analysed on a current basis so that modifications can be introduced as we go, and any change can be addressed promptly
agile work is based on specific priorities, independent work organisation and openness to ongoing modifications
good for those companies that deal with high-risk projects characterised by considerable variability. Based on quick response to changes.
Agile is a philosophy that entails specific
values, principles, and methods
. This working style involves the appointment of self-managing, autonomous, cross-functional teams often specifically created for individual projects.
Work in such teams is based on
transparency
, which means everybody has equal access to information or materials, and on
reflection
– development is possible through the analysis of the project and drawing conclusions in order to facilitate the whole process.

Agile values and principles
indywiduals and interactions above processes and tools
working product aboce extensive documentation
collaboration with the recipient above formal arrangements
openness and responsibeness to changes above following a strictly defined plan
Agile methodology – Scrum

The values and principles inherent in the Agile philosophy shaped a number of working methods. One of the most popular methods is Scrum.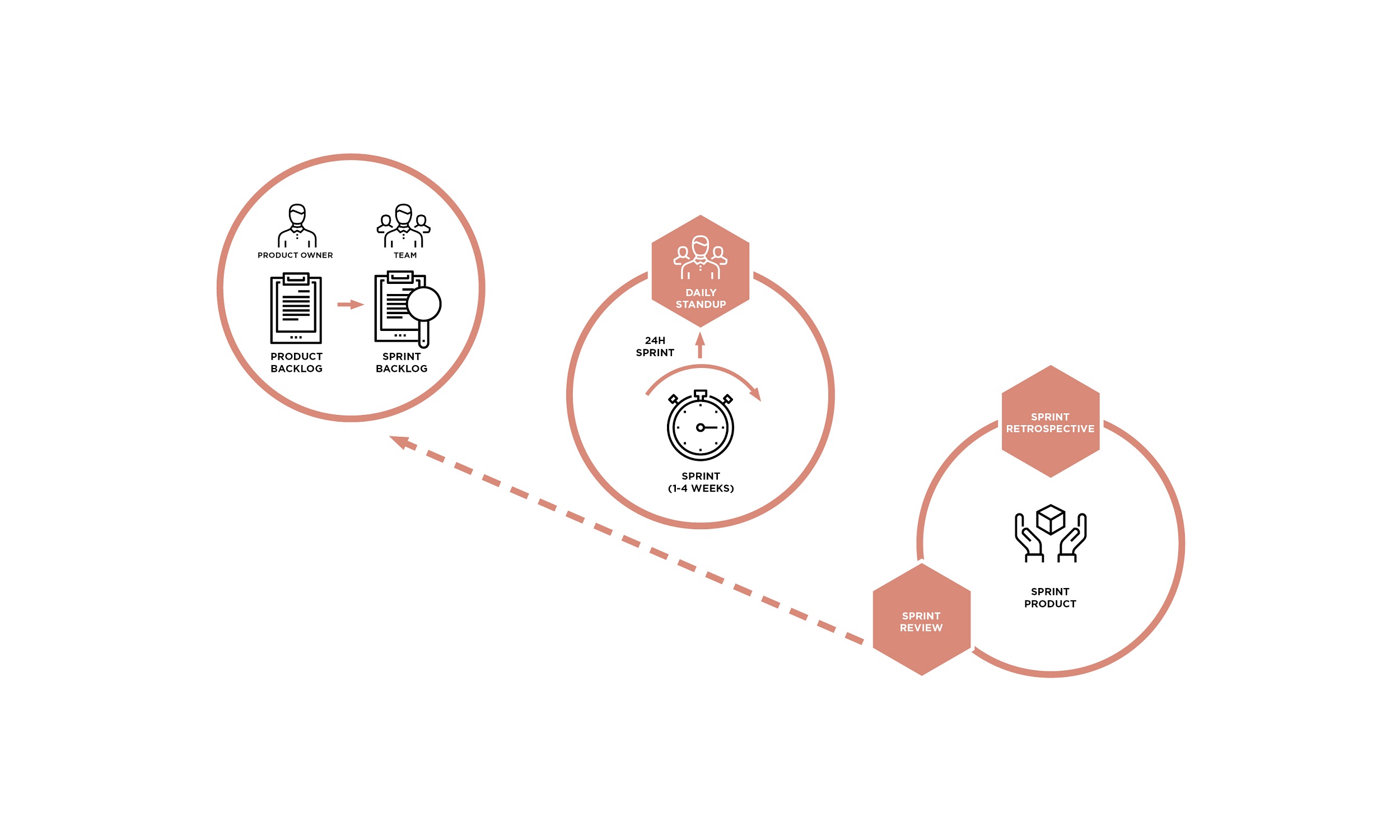 As you can see, following the Agile philosophy in the Scrum method means the employee has to engage in different activities. Starting from the product owner's individual work, through brainstorming in the team and daily standups, to the analysis of the whole process in the group. These diverse activities require different spaces and relevant furniture to support the efforts of the team rather than restrict them.


Agile office
Focus room
Creating a product backlog is a very important stage because the next phases will rely on the list of priorities created at this point. At this stage, the Product Owner must focus and engage in extensive analyses. Such activities are best done in a Focus Room, separated from the open space. Such a workspace comes with sound-absorbing panels and adjustable furniture solutions to accommodate silent work – at the same time, this space can be used by various people with different preferences.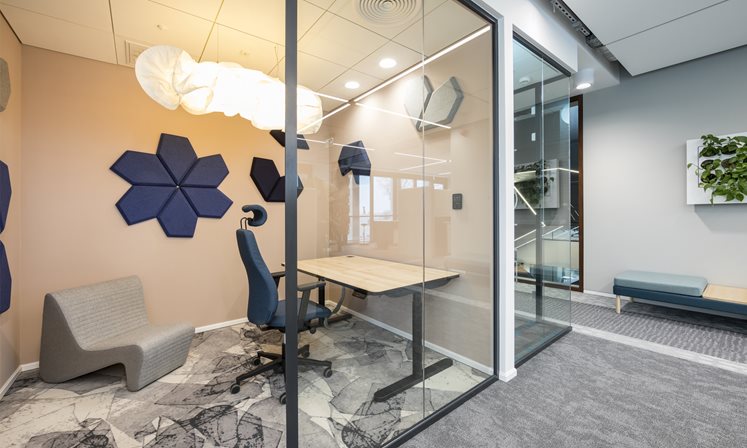 Mobile workshop
A team that follows the Agile philosophy is a team whose core activities include communication, discussion, and everyday meetings to keep everybody up-to-date and search for solutions to various problems as they arise. Such tasks are best done in a mobile workshop with furniture solutions that can be easily rearranged to reflect individual stages of a project (e.g. a sprint review or a retrospective meeting) and the team's needs.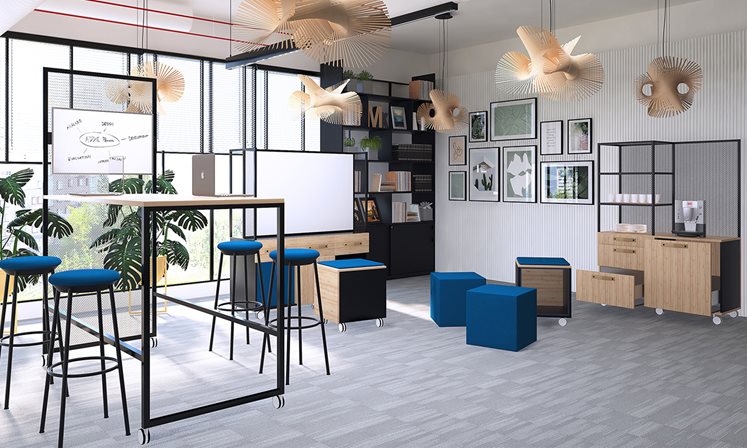 Dialy standups
According to the basic assumptions of the Agile methodology, and as the name aptly suggests, Daily Standups should be held in a standing position. Available research shows that such meetings are 30% shorter than traditional ones, and since the participants don't waste their time finding a place to sit, they achieve the same results in a shorter time*.
A space that supports daily team meetings should have a tall, mobile table and whiteboards for recording important information.


(Bluedorn, A. C., Turban, D. B., & Love, M. S. (1999). The effects of stand-up and sit-down meeting formats on meeting outcomes. Journal of Applied Psychology, 84(2), pp. 277.)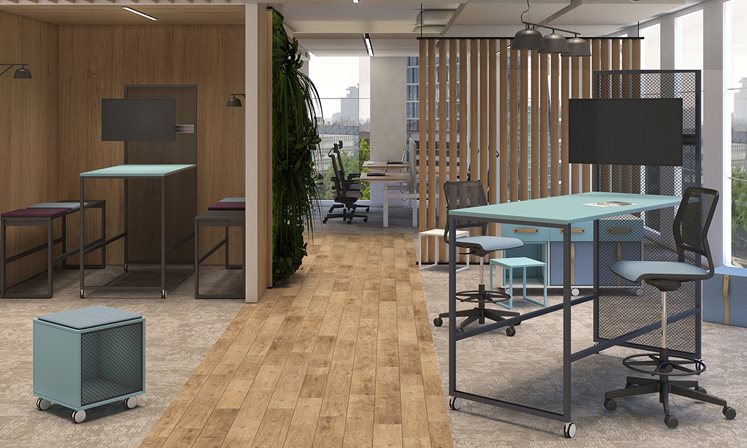 Agile-inspired office
You don't have to follow the Agile philosophy to work in an Agile-inspired space – one that prioritises flexibility, agility, and mobility (just like the philosophy itself).

An Agile-inspired office comes with a range of furniture solutions that can be easily rearranged to adjust the space to the users' needs.

How to design an Agile-inspired office?
Nowy Styl is trying to meet the client's expectations and accommodate the ever-changing working styles. After all, an office is more than just walls, desks, and a few chairs. A properly furnished workspace supports employees and helps them perform their everyday tasks to make the work easier and more effective.

The Agile philosophy focuses on speed and flexibility.

Why not reach for furniture solutions that facilitate spatial rearrangement to reflect the users' needs? Why not come up with flexible furniture options?

In response to these questions, we have designed Oxo and Offa lines as well as a new model of the Xio 2.0 desk. These are just a few of our proposed furniture solutions designed for companies that follow the Agile philosophy or just want to arrange mobile, flexible, and agile workspaces.

I you want to see our complete portfolio of products that support mobility and flexibility - do not hesitate to reach out to us. Together we will create an "agile space" and design an Agile office.


Are you planning a new office?

Contact our experts, who will help you adjust the setting to the new reality and to your employees' needs.