3 x WHAT – arrange your office in three steps
In this article we will present basic relationships between your working mode and office arrangement. There are 3 basic questions that should be answered before we set out to arrange an office well-adjusted to the needs of a specific organisation and its employees.

Differences between working modes, activities and office arrangement models are best summed up by the answers to three questions about: the working mode, the activities and the office arrangement.
Step 1: WHAT is the working mode in your organisation?
What's the organisational policy? – does the employer accommodate remote/hybrid work, does the company have specific regulations concerning remote work, etc.?
What daily tasks do the employees tackle? Can any of them be completed outside the office space without compromising the quality of the outcome? Or is an office better after all?
Do the employees use specialist tools or equipment in their everyday work (e.g. a desktop computer)?
The answers to these questions will help you decide what mode of work is the best for the employees. Mode of work

Stationary
For people who can't work just anywhere (e.g. from home), because of the nature of their job, the need to use specialist equipment or handle a vast number of documents. This also refers to organisations that choose to work in this mode.

Hybrid
For people who can perform some of their tasks anywhere - e.g. from home - and remain just as effective as in the office.

Remote
For people who can work out of office full-time - usually they are freelancers.
Step 2: WHAT is the main activity in the office space?
What kind of activities do the employees perform?
Is it mainly group work or individual work?
Which activity is dominant?
Why will the employees come to the office?
Which activities is office space supposed to support?
These questions – and the answers to them - are important and should be considered by decision-makers in the company. This is how you make informed decisions on the kind and designation of office areas, in order to proceed with functional arrangement at a later stage.
4 areas

Each office space should include 4 areas: administrative, focus work, communication and chillout. The proportions will differ depending on the nature of office activities.
The activities performed by the employees can fall into the following categories:
routine – i.e. administrative and individual work – these activities are dominant in companies where administrative tasks, such as writing e-mails, filling in documents, working on company software or data processing, are the basic tasks assigned to employees. This is also the main area in the organisations where employees mainly work individually and don't need a lot of opportunities (and space) for communication;
concept and creative work – these activities are observed in companies which focus on building relations and exchanging thoughts or information. This is the dominant activity in the organisations where communication and building relations are the most important.
blended – the nature of work combines routine, communication-based and creative activities.
Step 3: WHAT kind of office?
The last part of the decision-making process is choosing the model of office arrangement. Once you know what mode of work is prevalent and which activities will be performed in the office, you can decide how to arrange the office space. You need to bear in mind that the office should offer support rather than limitation, and promote effective performance of everyday tasks.
Cellular office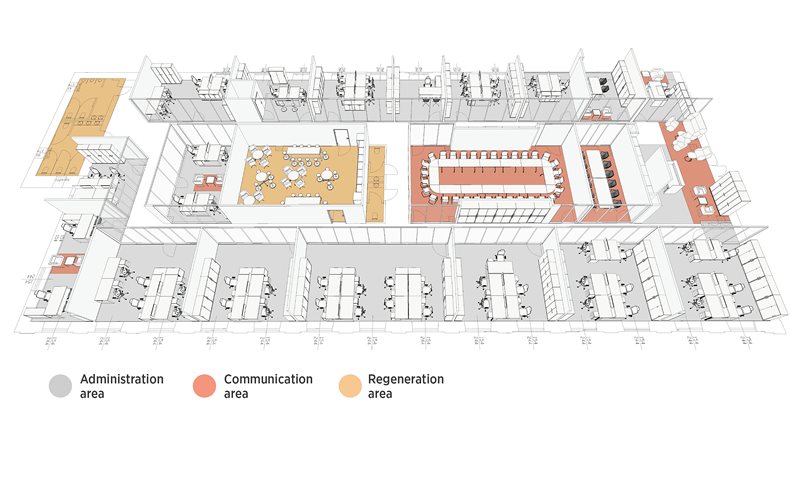 this is a space where mainly administrative tasks are performed, so the dominant area will be one designed for those who work behind the desk or are engaged in technical operations. This arrangement ensures the greatest privacy and offers the opportunity to have one's own separate space.
Open space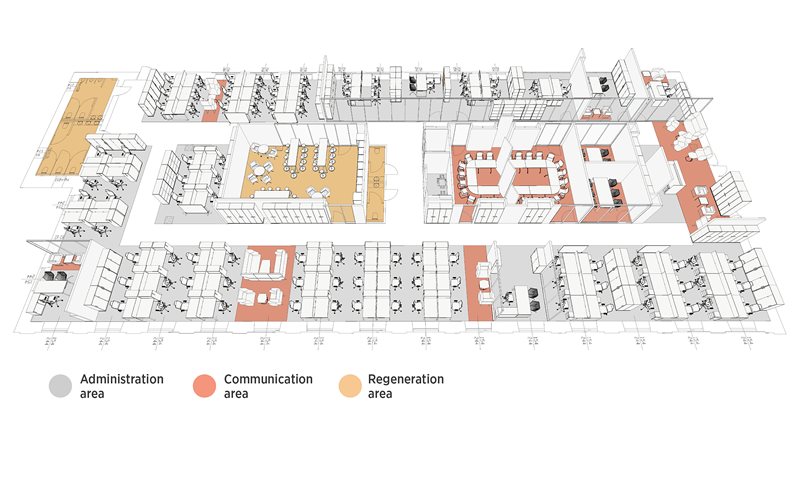 with no walls to limit the space you can introduce new zones designed to increase and improve the employees' effectiveness, motivation and wellbeing. In an open space the role of the communication area is prominent, which means you will find more space for formal meetings, conference rooms or areas for ad hoc consultations.
Zoned office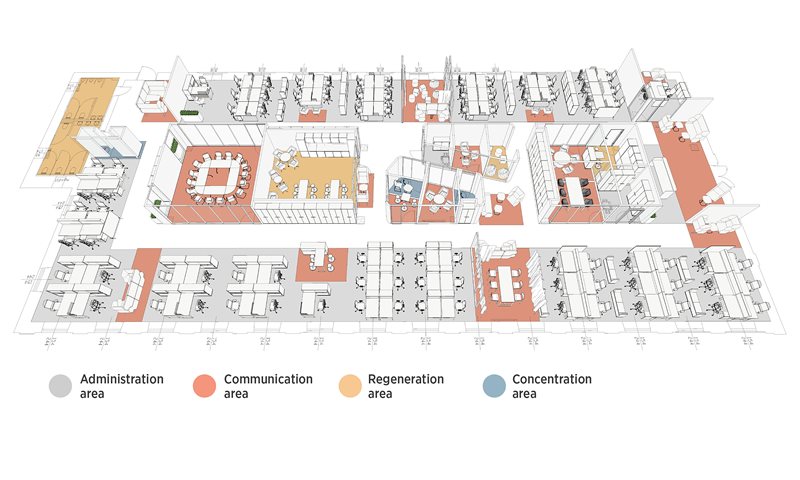 ensures workstations permanently assigned to each employee and arranged in an open space. Employees can also use a range of additional spaces, designed to improve and support specific activities and tasks. For example, if a company focuses on cooperation, the office space will include a number of meeting zones.
Activity Based Workplace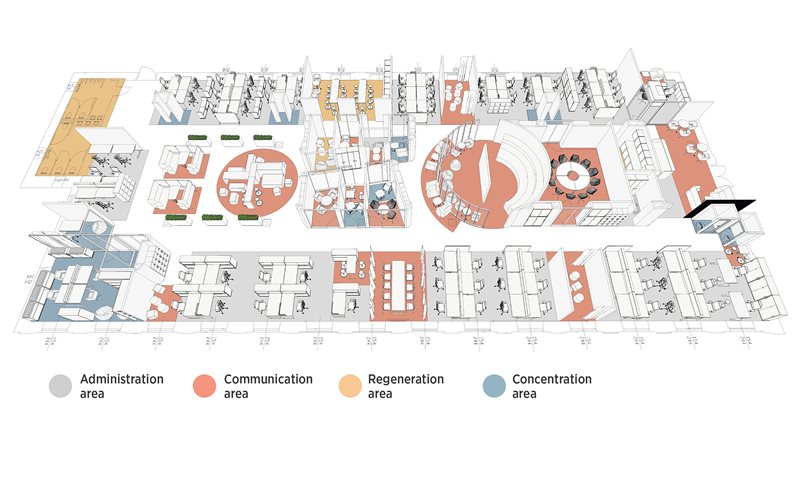 this type of office will keep you moving. The employees don't have permanently assigned workstations. Also, the number of workstations is not the same as the total headcount. In this office space you will find places designed for particular activities and zones such as: rooms for meetings with customers/colleagues, sound-absorbing phone booths or focus rooms. This office arrangement strongly supports human interactions. It also increases the employees' autonomy, offers a choice and guarantees a space for focused work.
Hybrid office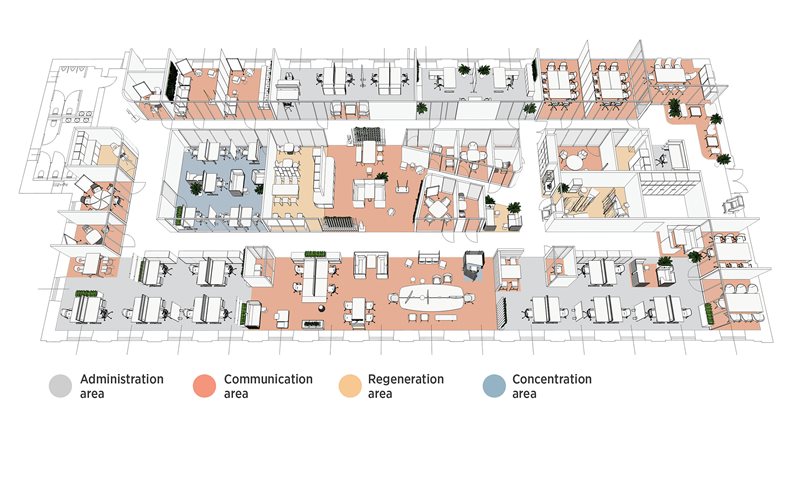 Communication Hub - changes its function. It now promotes such values as communication, cooperation, company culture and atmosphere as well as building interpersonal relations. In a hybrid office the number of workstations is not the same as the number of employees (desk-sharing), and administrative tasks or focused work can be performed out of office, e.g. from home. An office is a place for meetings and team work.
There is no single answer to the question which working mode, dominant activity or functional arrangement is the best. All of them have advantages and a certain potential, and each is designed for a number of various activities.

When choosing the working mode, activity, work organisation and functional arrangement, the last thing you should do is follow the latest trends. It is an important decision, whose outcome should match the company and suit its employees. One of our customers saw it when he had an idea to introduce a hybrid office. He focused on the fact that some of his employees were engaged in hybrid work. Unfortunately – organisational culture and dominant activities (individual and creative work) not only prevented the model from being successful, but made life difficult for the employees, who could not find their feet in the newly arranged space. We went back to the first two "What" and together we found the answer to the question, "What kind of office will support employees and allow them to perform their daily duties effectively?". Ass you can see, even the best space will cause trouble if it's not well suited to the needs.
Are you planning a new office?
Contact our experts, who will help you adjust the setting to the new reality and to your employees' needs.