Why is ergonomics important?
The expertise and experience we gained during the pandemic show that health is essential for employees. Desk work, wherever it is performed, does not have to end with back pain, cardiovascular issues and deteriorating eyesight. We believe that a friendly working environment is not just a temporary post-pandemic fad but an essential component of the workplace that can significantly improve health and well-being.
Reports from the last few years before the pandemic showed that more than 90% of employees sit without moving around for long periods of time, and 74% hunch over the desk. Assuming that only some of us had proper task chairs and desks at home before the pandemic, it is more than likely that moving offices into our homes did not improve these numbers.

The increasingly frequent remote work often results in non-ergonomic use of the computer, which can affect our health and well-being. But this can be avoided. If we change our habits and adjust our workplaces, the problem could be reduced considerably. Some progressive organisations are already encouraging their employees to balance out sedentary work and keep moving throughout the day.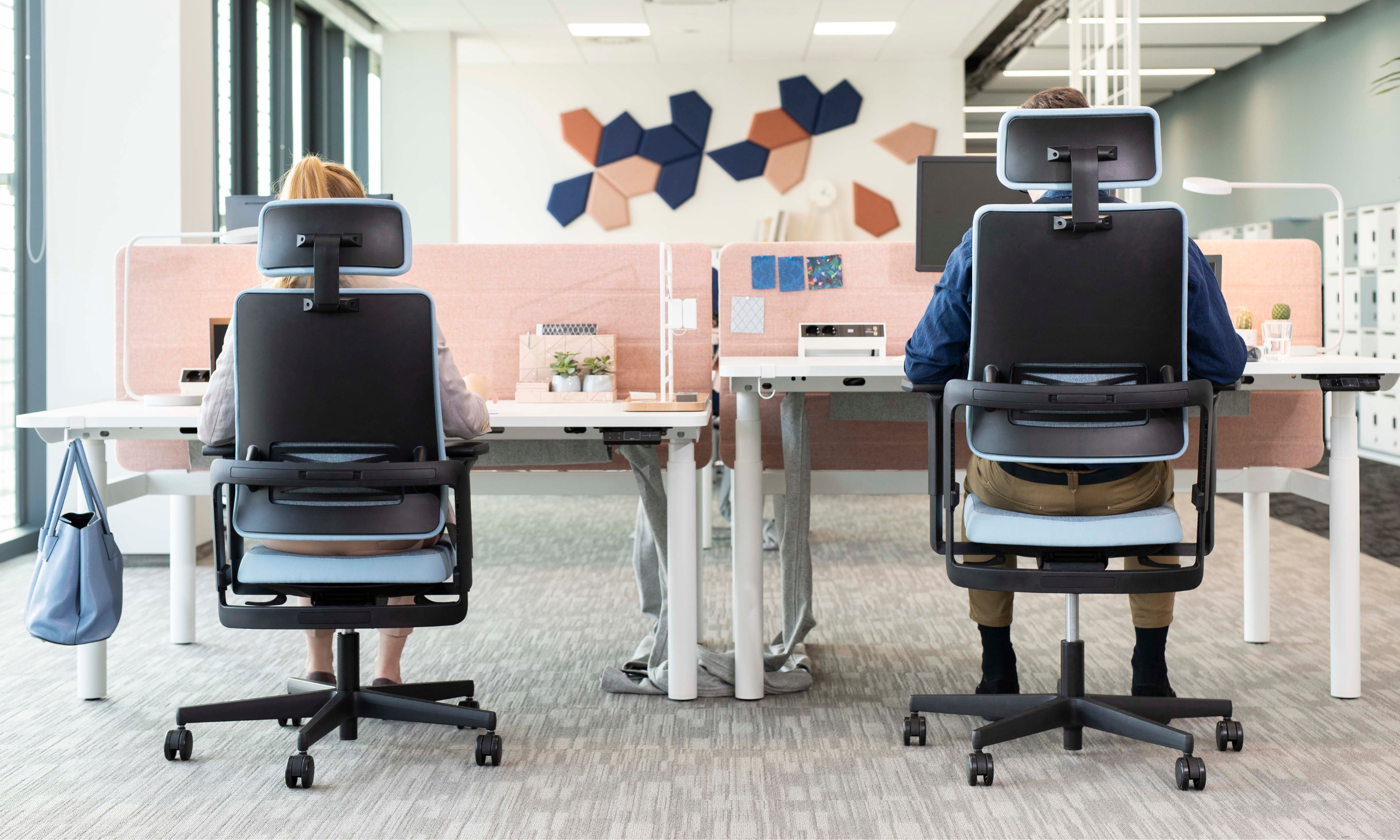 Take care of your health, take care of ergonomics

The term ergonomics originally comes from the Greek words ergon (work) and nomos (natural laws). Put simply, ergonomics is concerned with designing and arranging things people use so as to ensure they interact as efficiently and safely as possible.

Thanks to ergonomics, workers do not feel discomfort from a bad working environment, they are more efficient, concentrated and productive. Investing in ergonomics shows you care for the wellbeing of your employees and helps to instill a better culture of safety in the workplace. Employees feel valued and become more engaged. Good ergonomics reduces the risk of worker injury and thus improves overall safety. As a result, workers are healthy and pain-free. Better well-being also leads to reduced stress levels.

How to go about it? Four ways to improve ergonomics in the workplace

• CONDUCT AN ERGONOMICS ANALYSIS – Consider your employees' perspective.
• CREATE A LIST OF PRIORITISED JOBS OR DEPARTMENTS – See which category of workers is the most vulnerable.
• PREPARE GUIDELINES AND REGULATIONS - Employees should know the applicable rules, their responsibilities and, above all, their rights.
• CHOOSE THE RIGHT FURNITURE – Get ergonomically sound furniture and tools (monitor, desk and chair).
Experts in the ins and outs of ergonomics

At Nowy Styl, we have been designing ergonomic solutions for more than 30 years. We have the necessary experience and expertise to create ergonomic products. Because we do, we can support our clients and partners in building friendly working environments every day.
What problems do our clients face?

HR teams and office managers look for reliable information about ergonomics in the workplace
Employees have problems using chairs and furniture correctly (i.e. ergonomically)
Employees don't know how to work ergonomically, which results in dissatisfaction or even physical pain, potentially leading to quitting

How do we help?

We advise on the methods, analyses and ways to improve and implement the principles of ergonomics in organisations
We hold workshops for employees in close liaison with office managers and HR teams
We educate employees about our solutions to boost their confidence as users and help them fully tap into the potential of our products
We advise companies on their space organisation and ways of using the furniture they have

What results do we see?

Increased awareness of work ergonomics
Greater satisfaction with available office space
Better educated and satisfied employees
Longer product life due to proper use of the furniture
Ergonomic workstations and well-thought-out office arrangements that encourage employees to move around, as well as good workplace rules all contribute to better health and well-being of teams. Nowy Styl experts can help you create such a working environment.
Contact us to find out more.
Sources:
www.juststand.org/resource/infographics/sitting-disease-by-the-numbers
NIOSH. Using Total Worker Health concepts to reduce the health risks from sedentary work. Workplace Solutions (2017)
Raport HealthDesk – Raport nt. zdrowia pracowników w Polsce w latach 2017-2019
Fellowes - The Work Colleague of the Future (2019)
CBRE – Poznaj biurową przyszłość (raport – 2019)
Let's make your space together
Fill in the contact form to get in touch with us: