New website, new opportunities!
The time has come to present a project we have been working on for several months now. You are now looking at the new Nowy Styl website design – modern design, interesting content, and a whole new world of opportunities! The refreshed website is a friendly way of presenting our brands, products, services, and projects. You can now use the 3D configurator to suit the chosen elements of our product lines to your individual needs. Plus, you can discover the new categories in our portfolio and enjoy a more intuitive way of finding products. What else is there for you on www.nowystyl.com? Check it out now!
For more than 30 years we've been assisting companies all over the world in arranging office and public spaces. Our passion for creating new products and designs, as well as satisfaction with a successful project, is what drives our dynamic growth. When speaking of our corporate growth, we can't forget our online presence. That's why we took care to develop our new, functional, and useful website, which offers even more opportunities and options to its users.

The new website design is one of the steps we take on the way towards digitalisation, to increase our innovativeness and flexibility. To provide the users with intuitive browsing, and to offer comprehensive information on our product portfolio, we decided to focus on user experience. Having implemented a range of software solutions and processes, we found digitalisation much easier than we initially expected.
Discover our products and be inspired by sample space arrangements
We have come up with new, expanded, high-quality content, which will help you learn more about our current product portfolio. We have photos, videos, and visualisations to inspire you to arrange a modern and ergonomic office space.

Configure a product and adjust it to match your expectations
Now you can choose from among a variety of solutions, and adjust them to match your needs and expectations. On our new website, we will also suggest complementary products that go with the ones you've chosen and help you make the most of your space.

Download ready-made 2D pictures and 3D models of selected products
Are you an architect or a designer? We have decided to meet you halfway and prepared 2D and 3D files in various formats (EPS, DWG, 3DS, etc.). Feel free to use them in your everyday work.

Explore the wide range of our services
We believe an office is much more than just a space within four walls. Apart from office furniture, we also offer a range of services, such as:
• Workspace consulting
• Workspace planning
• Acoustic tests and consulting
• Ergonomic consulting

On our new website www.nowystyl.com you will find detailed information on our competencies and learn why it's good to rely on the impressive experience gained by the Nowy Styl experts over the years of practice.
Explore the projects completed for other clients
The projects we have completed so far speak for themselves! In the tab titled "Projects" you will find the results of our efforts and the outcome of numerous collaborations with businesses from Europe and the whole world.

Quick and easy way to contact us
Are you a product distributor? Use our new website to contact us to discuss possible cooperation. You are also kindly invited to visit our showrooms. You will find an exhaustive list in the tab titled "Showrooms".
Check out where you can find specific products
Would you like to know where to buy Nowy Styl products? Use the search engine in the tab titled "Where to buy?", enter the town name, and check out which stores have our furniture.


Get access to our customised reports, case studies, and papers
We like to inspire, share our expert knowledge and help you find the best solutions. Explore our studies and articles, which we develop to educate our partners and clients.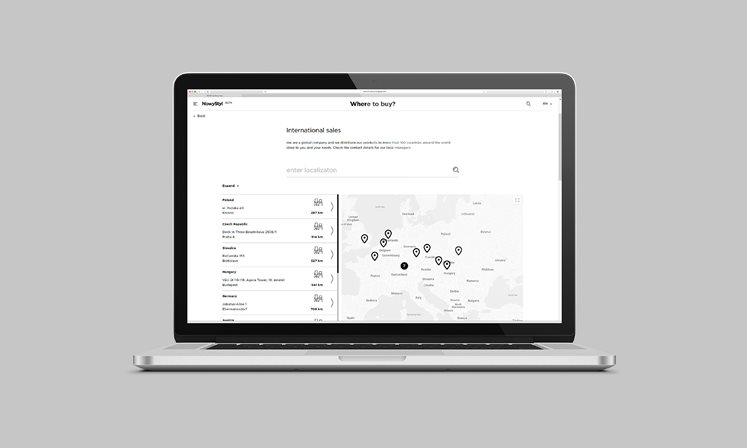 And there's more! You are kindly invited to stay on our website, use the refreshed content, browse the current folders and templates, and learn all there is to know about ergonomic work and creating a modern office space.

We highly value your opinion, so we are planning to implement a tool to help us collect feedback. Stay tuned to explore the new functionality - the details are coming soon!
Meanwhile - enjoy the read!