Meet WithME - a chair approved by all family members!
Are you looking for a chair that will make your home office perfect? Would you like to combine comfort and ergonomics with a visually light design? Do you dream of a chair that will cover the needs of different users and support them both while working and studying? We know your needs so we respond with our new product - WithME, a chair approved by all family members. Even by a cat! See the movie.
As you could see, WithME works perfect in homely vibe!

Check some great features of this chair:
The ability of self-adjusting to the user's weight and size makes WithME a perfect chair for home working where entire family can comfortably use the same seating to work, learn or play.
Transparent, not intrusive, clear shape and compact dimensions make WithME seamlessly fit into most spaces. If it happens that your home acts as your job spot, WithME is basically the best choice due to its discreet look. WithME never dominates, but gets almost invisible when slipped under the table top.
The impression of lightness goes along with the chair's actual weight. It's only 10 kg so lifting WithME is like to lift a six pack of bottled water. That low weight lets WithME travel easily across your working space, even if this space is your two-floor house.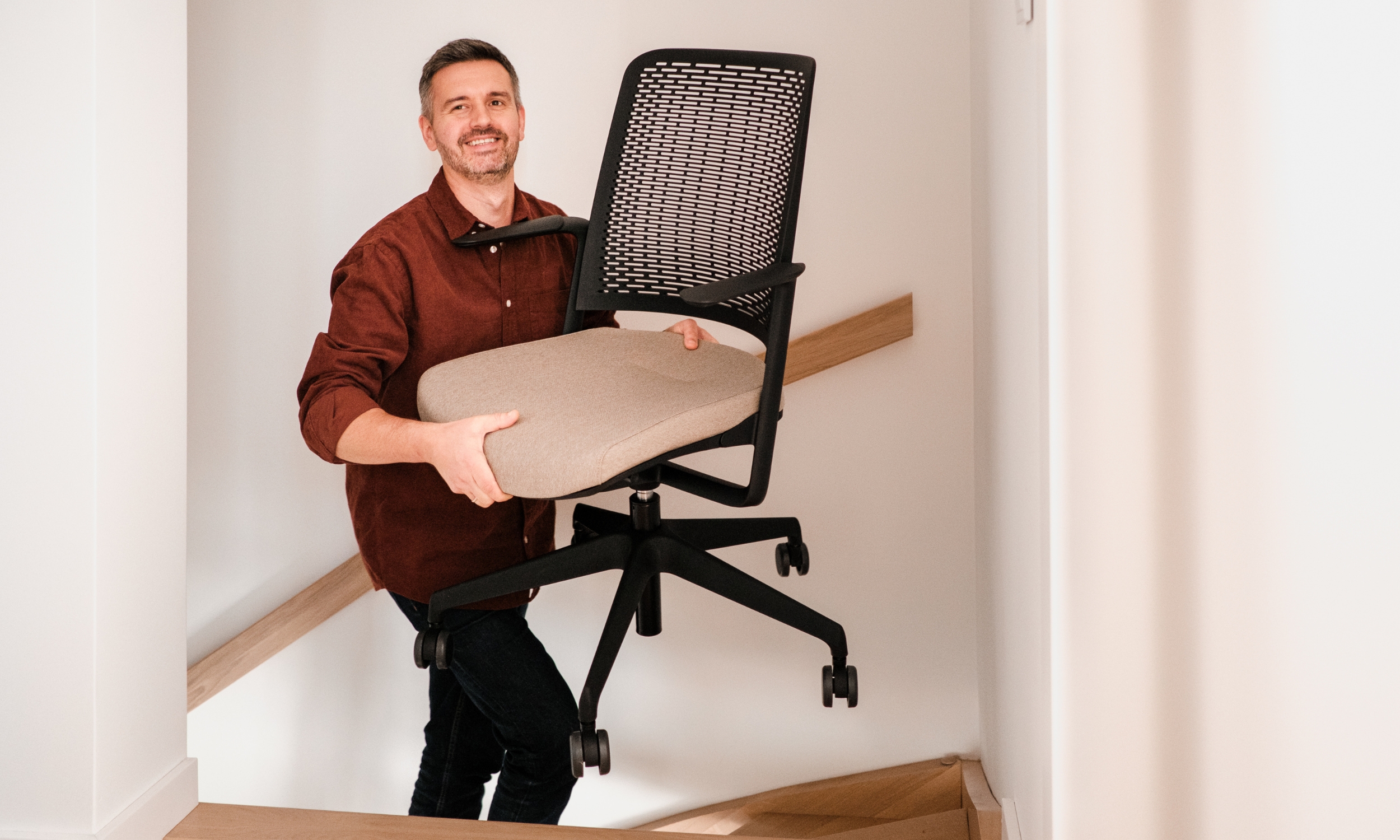 If you find WithME chair as an interesting business solution for your office space or co-working area as well, you should definitely learn more by visiting the other WithME website.
Click here!
Scan with your phone the QR code attached to the seat and find out some other useful instructions regarding your WithME chair.

Now you have all the instructions at hand. It's that easy!

If you like, a transparent WithME backrest can be easily turned into upholstered version.

Putting the soft cover on is quick and easy so you can change your mind as often as you wish.
Effortless comfort and worry-free maintenance

The WithME chair really cares a lot about user's wellness, no matter the age and size. It assures ergonomics and freedom of movement to support you while spending hours on creative tasks.
And the one final question: are you happier if the products you buy are more eco-aware? Do you try to follow "less-waste" approach? If yes, WithME will satisfy you since it is user-friendly, sustainable and ready to serve for decades. Here's why:
easy assembly in just a few minutes
removable seat upholstery that can be easily taken off and washed
key components made of flexible synthetic material that is both nice in touch and washable
removable upholstered backrest pad for quick adapting the chair to user's wish
Adapt your WithME to yourself
Cats know best place to sit!

When we say that WithME is a favourite chair of all family members, we really mean it! Cat recommendation can't be wrong because they are professionals if it comes about comfort!
Where to buy WithME chair?