#MakeYourSpaceAtHome how do you work from home and remain productive


The current situation has come as a surprise to everybody, regardless of their social position or job. This is definitely a time of difficult choices and decisions. A time when many concepts which used to be obvious have to be redefined. In our everyday practice we create and implement effective office spaces. Our products are silent out-of-focus heroes of the office space. They watch the success, challenges and everyday work of people all over the world.

We would love to stand by you and continue to offer support and knowledge. Especially when your home has temporarily become your office. Is your home ready for it? If not, what can you do to adapt yourself and your space to this new reality? And how do you achieve work-life balance if you remain confined to one place all day long?

We will answer all of these questions in our cycle titled #MakeYourSpaceAtHome, which you are currently looking at. It will include lots of inspiration and advice on how to take care of yourself at home, how to separate work from leisure, how to make sure you get enough exercise or how to lock out the noise from other rooms. But above all we will try to show you how to arrange an ergonomic, comfortable workspace using whatever most of us have at home.
Healthy working - get up and go!
It is always good to take care of your health: by focusing on proper body posture, regulating your workstation or observing workplace hygiene. Following these rules in the office, where you have access to a proper chair, laptop pad etc., may be boring (admit it, you sometimes forget about it), but definitely doable. Problems appear when you suddenly have no access to all these facilities, because you have to work from home. Many of us have had to cope with this challenge for the past couple of days.
I don't have my own office
What do you do if you don't have a suitable room to work in, with a PC, regulated chair and a well-lit desk? You will have to improvise. A critical situation calls for all the creativity you can muster. We have collected a few of such "makeshift" ideas to give you some inspiration. We should remember, however, that none of these solutions will guarantee the comfort and ergonomic quality that come with a proper chair and regulated desk.

In order to cope with the situation for the time being, it is good to define the space you are going to work in. It could be a dining room table and a regular chair. Remember, when you sit, try to keep your knees at an angle of ca. 90°. Your elbows should also be at the right angle after you put your forearms on the table. Sometimes you will have to sit on a folded blanket or two to achieve this. You can also use a footrest (it could be e.g. a shoebox). This will take the load off your shoulder girdle and boost your circulation.

Another aspect is the position of the computer screen: its upper edge should be right below your line of sight. If you put your laptop on the table and find out that the upper edge of the screen is too low, try putting a few books underneath.

If the back of your chair does not support your spine, i.e. if your lumbar spine does not rest against the back of the chair – place a cushion so that your lower back is supported. This will help you avoid back pain.
Sitting is not the end of the story
Once you have created a comfortable makeshift workplace, it's time to stand up. It's not a joke. Sitting in one position for a long time will not do you good, even if the position you chose is ergonomic and comfortable. Your muscles stiffen, constant pressure on the veins causes ischaemia, and lack of exercise accounts for low oxygen supply. It's time for a coffee break and a short walk to the kitchen.

But a change of position does not necessarily have to involve a break. Do you have access to a high windowsill or a kitchen island - a place where you could work in a standing position? Use it! If not, you can always use an ironing board, which will become your temporary desk, while you stretch your legs and boost your circulation. You should change your position following the 50/25/25 model: during one hour you spend 50% of the time sitting down, 25% standing and the other 25% in motion.

You could also do a few simple exercises, which will relax your muscle tension and help you get rid of stiffness. This is also a good way to supply oxygen to your brain if you happen to spend more time in one position. This link includes a few sample exercises with a description. Good luck!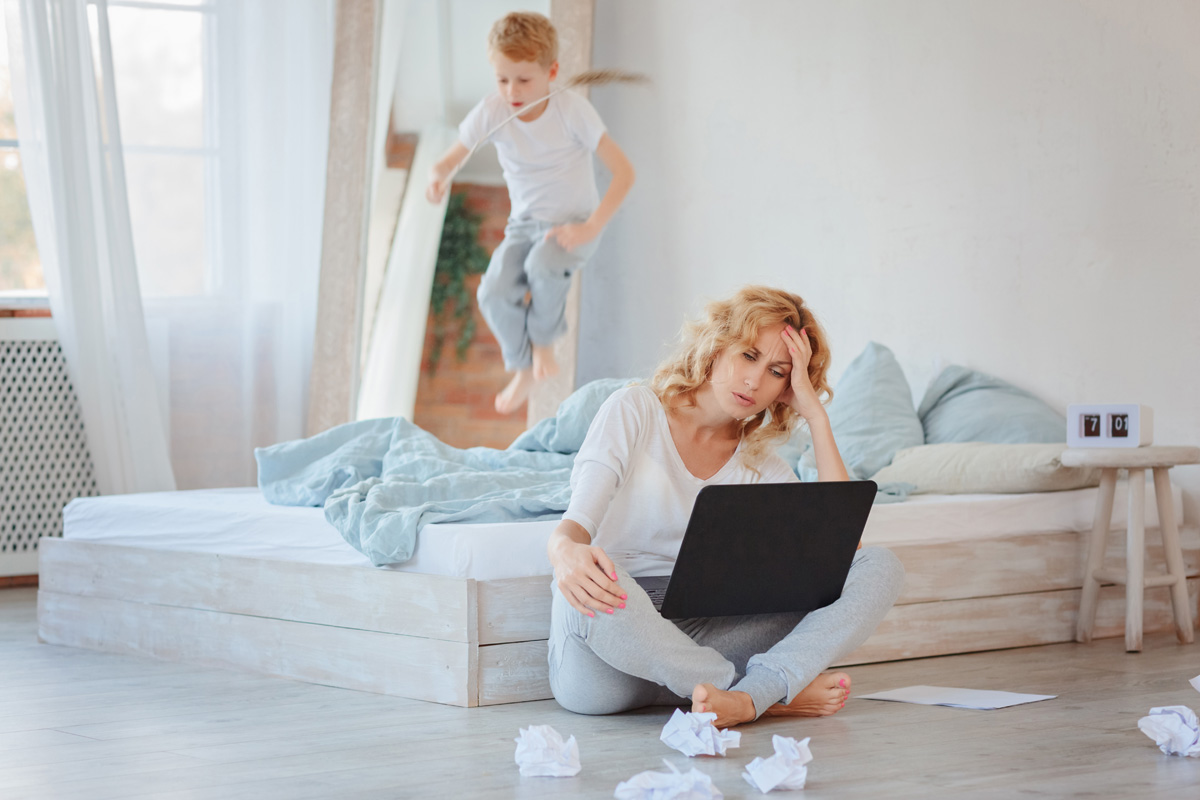 How to maintain work-life balance? Divide your home into zones!
Our homes have recently been turned into offices, round-the-clock educational facilities and small leisure centres. In brief, all these places – work, nursery, school - are suddenly squeezed in the space that used to be our own. It's easy to get confused. As a result, we often get distracted, we work longer hours, we procrastinate and our job takes up all day rather than the usual eight hours. Today we will tell you more about how to avoid all this and maintain work-life balance.

Remember about regular working hours
Try to get up at more or less the same time as you normally would, follow your daily routine, get dressed and sit down to work, and after 8 hours give focus on your (most) important obligations towards your nearest and dearest.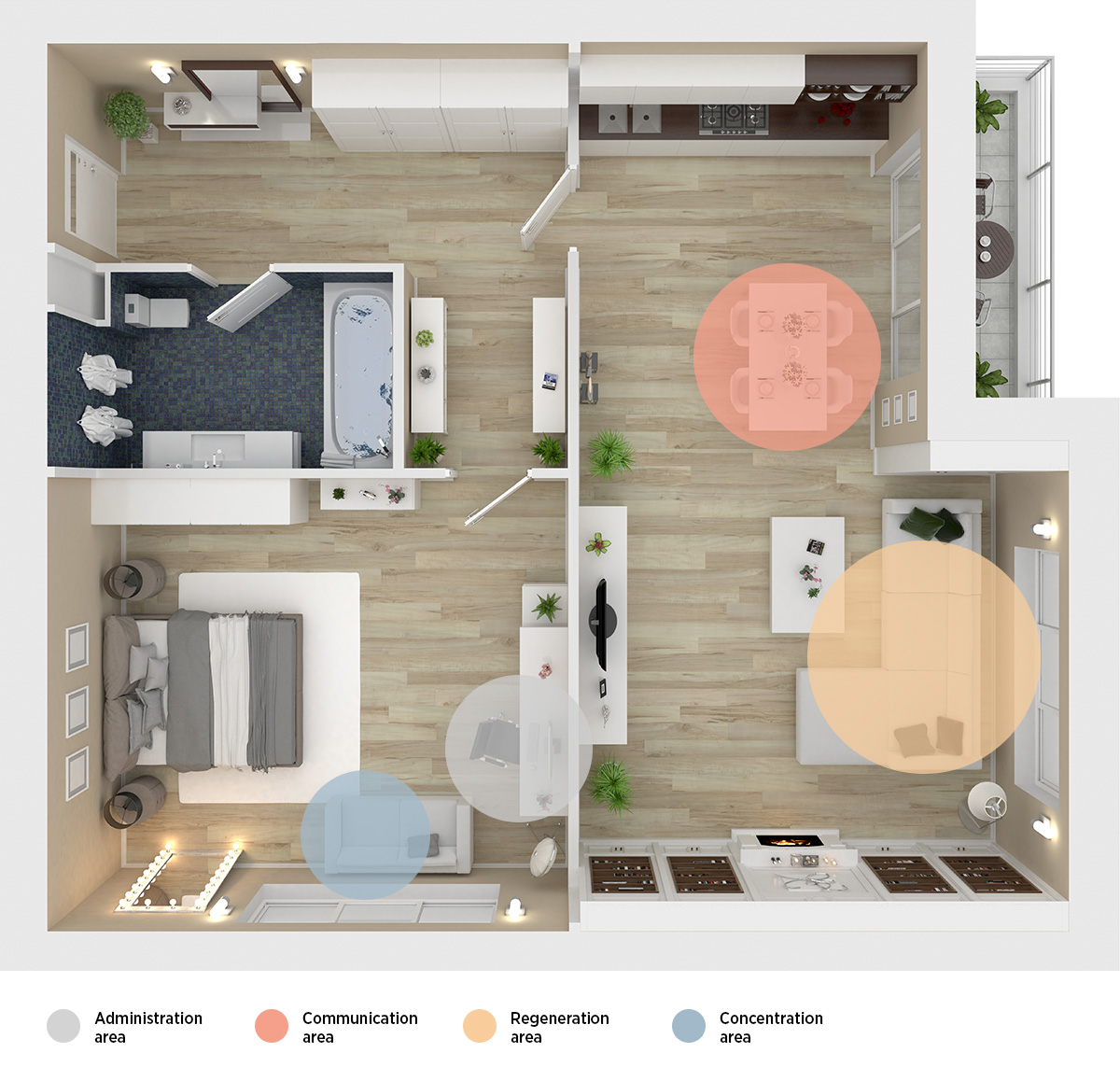 Activity based working: get up and go
It's one thing to separate work from personal life. Your effectiveness is another story. We have already mentioned zoning. In the Activity Based Working office each activity type has its own zone. You organise formal meetings in the meeting room, you sit down at your desk to reply to e-mails, you relax and recharge your batteries in the kitchen and you hold phone conversations in a booth.

You can adopt a similar approach at home. Let's start with zoning at dinner time. Leave your work for a while and take your time to have a meal. Go to the balcony or look out of the window. Give yourself some time to relax and regain strength in your regeneration zone.

We do realise working from home often involves numerous conference calls. Find some place, like a special armchair, where you can talk on the phone or hold video-conferences. This is your communication zone.
Most of the time you probably work on your PC: doing office work, individual concept work or assignments that require utmost focus. This is your administration or concentration zone, where you actually sit down behind your desk.

Office zoning or in exceptional situations – home zoning, is not a whim. It's much easier to focus on specific activities if you realise and remember that you normally do them in specific places. This is why it is important not to work while you're in bed, because this will impact both your work and the quality of your sleep.

We know that home office is a dynamic reality, full of challenges and temptations, but we should bear in mind that we are still the main agents responsible for the comfort of our work.