Internet of Things: how new technologies help us get organised in a new working environment
Internet of Things – an idea developed to combine everything within a shared infrastructure, so as to make sure the user not only controls all the objects that surround us, but is well informed of their status at all times. Read on to find out more about IoT, which may also be relevant to our office reality.

Technology designed to serve people

It was by coincidence that an experiment conducted in the 1980s at the Carnegie Mellon University in Pittsburgh focused on controlling the contents of a Coke vending machine, contributed to a global trend. The project was designed to eliminate the irritation caused by walking to the vending machine only to find it empty. A group of students had an idea to install sensors inside the machine, so as to monitor the content and the temperature of Coke cans without having to go downstairs to check the vendor.

That event was the first step toward what is now known as IoT. The concept itself was caught upon much later, in the early 21st century, when the first smart fridge was designed by LG and a self-driving vehicle was tested by Google.

Nowadays IoT solutions are so ingrained into our lives that we may not even realise we're actually using them. They are with us on a daily basis, which means we've grown used to how they make our lives easier, more clever, efficient, and economical. These concepts and devices help us bring down barriers and eliminate restrictions, especially those experienced by the disabled and unprivileged. As technology developed, a new trend was observed – Make Tech Human – which proved the extent to which we rely on digital solutions that make our lives easier. We use our phones to control a variety of objects in our homes – starting from simple household devices, to more complex installations. Just as a global trend known as Shared Economy is steadily growing, which means the users can share the time, space, and available resources, new solutions have appeared that make our cities more user-friendly. We can now rent a bike or scooter using a relevant application or search for available parking lots on a simple platform. Our working space is no exception – authorised employees can access their office using an RFID card, which accounts for greater security. Smart office buildings can collect data to help us reduce the use of energy and other resources.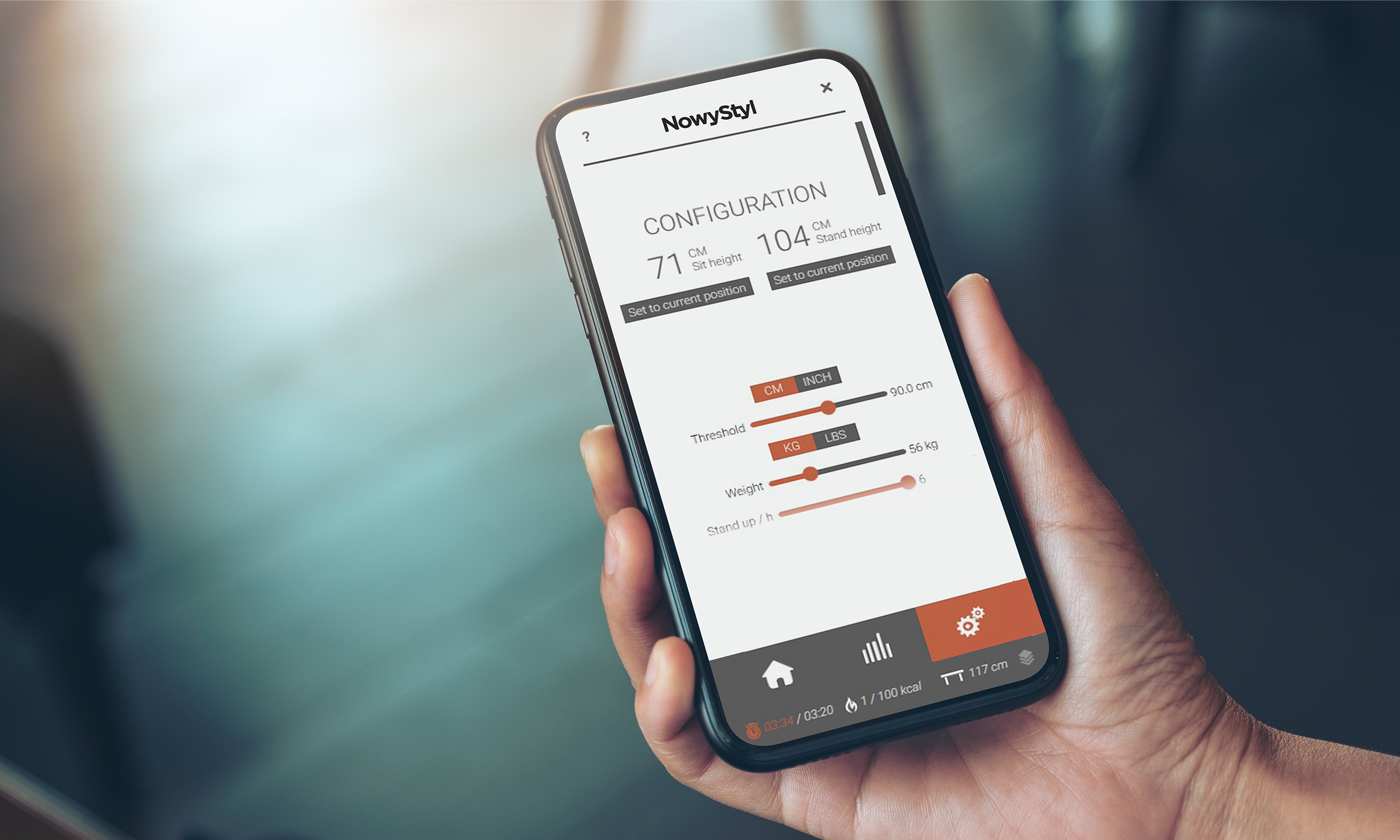 Changing work preferences

Over the past few years, most office employees had a chance to try some form of remote work. The synergy of private life and work gave them more freedom, flexibility, and satisfaction. This experience showed us that some tasks can easily be performed out of the office, in a variety of different places. However, working from home had its drawbacks, too. Both employees and managers had trouble maintaining contact in a team. This was coupled with technical issues, a feeling of isolation, or a lack of motivation. Long-term isolation also affected the development of new working style habits, a change in work preferences, and sometimes even a review of one's own long-standing beliefs. At the end of 2021, the Reuters news agency claimed only 14% of the 14 thousand respondents participating in a European survey conducted among employees declared they would like to return to full-time office work after the pandemic1. The report prepared by ManPower Group (based on the opinions expressed by almost 1000 companies in October 2021) predicts that only one in five employees (20%) will be performing their everyday duties in the company's office. Most staff (76%) will have a chance to work in a hybrid model, while 2% will complete their tasks in a fully remote setting2.

A report prepared by a technological company known as Jabra in late 2021 (where more than 5 thousand employees from the 5 largest countries in the world were asked to share their work preferences) explains that regardless of the generation – be it Baby Boomers, Gen X, Millenials or Gen Z – more than 70% respondents would like to work for a company that invests in technology to account for effective hybrid setting in the future3. Furthermore, a large group of employees said that they find the technology useful when it comes to time management and maintaining work-life balance in times of isolation.

Since we know the future is going to be hybrid, the question is: how do you manage a dispersed team of employees?

And once again we will have to rely on technology.

Our studies conducted in 2022 show that the key reason why people will continue coming to the office are meetings - both formal and informal. Another important function of the office will be integrating the staff members. An office will be a place where organisational culture is created, where a community is formed, and where visitors can receive a formal reception4. Individual and deep work will mainly be done remotely. It's good to note, though, that not everybody has a quiet place to focus at home. On the other hand, a large group of people who participated in our workshops organised in spring 2022 claimed that many employees complain that after they returned to the office, they found the work setting too noisy5. During the prolonged periods of isolation over the past few years they got used to silence and couldn't face the hustle and bustle of typical office life. That's why in the future we're going to need such spaces as Focus Rooms or Open Spaces with specific sound-absorbing solutions so that employees can choose the degree of silence they need for efficient work. In order to support our employees in managing their own time and space, we should equip them with relevant tools.
IoT solutions in offices

It's good to note that there is an extensive range of available solutions. According to the data provided by Statista, the global database now includes more than 10 trillion devices connected to the Internet of Things. Over the next 4 years, this number is supposed to triple6. We can easily say it's a dynamically growing market. Below we would like to present those solutions that can be exceptionally useful in making the most of office space. These ideas include devices for effective spatial management. Some of them focus on improving workplace ergonomics, others are more into space optimization. The devices make use of integrated sensors or assigned QR codes in order to share information with dedicated platforms or applications. That's how employees can obtain necessary information before they even leave home.


– Will there be an empty parking space in case you are planning to arrive later?

– Is the Focus Room available if you need a place for deep work?

– If you're a manager, will you find sufficient space for your team to work together?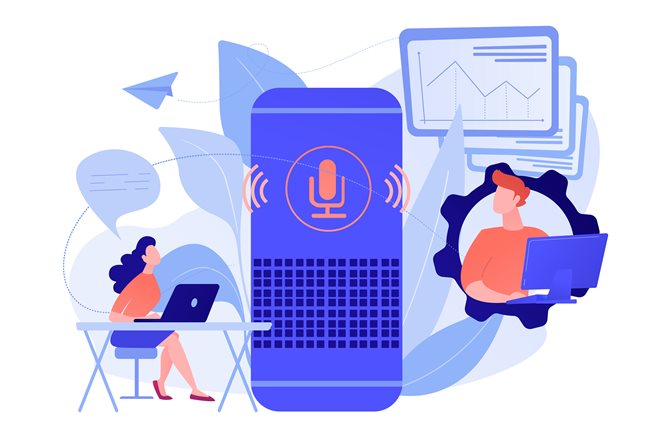 The end user is not the only beneficiary of such solutions, though. Both employers and investors will definitely notice the advantages of using IoT in the office. The table below presents a wide range of benefits that various users of the same products can enjoy.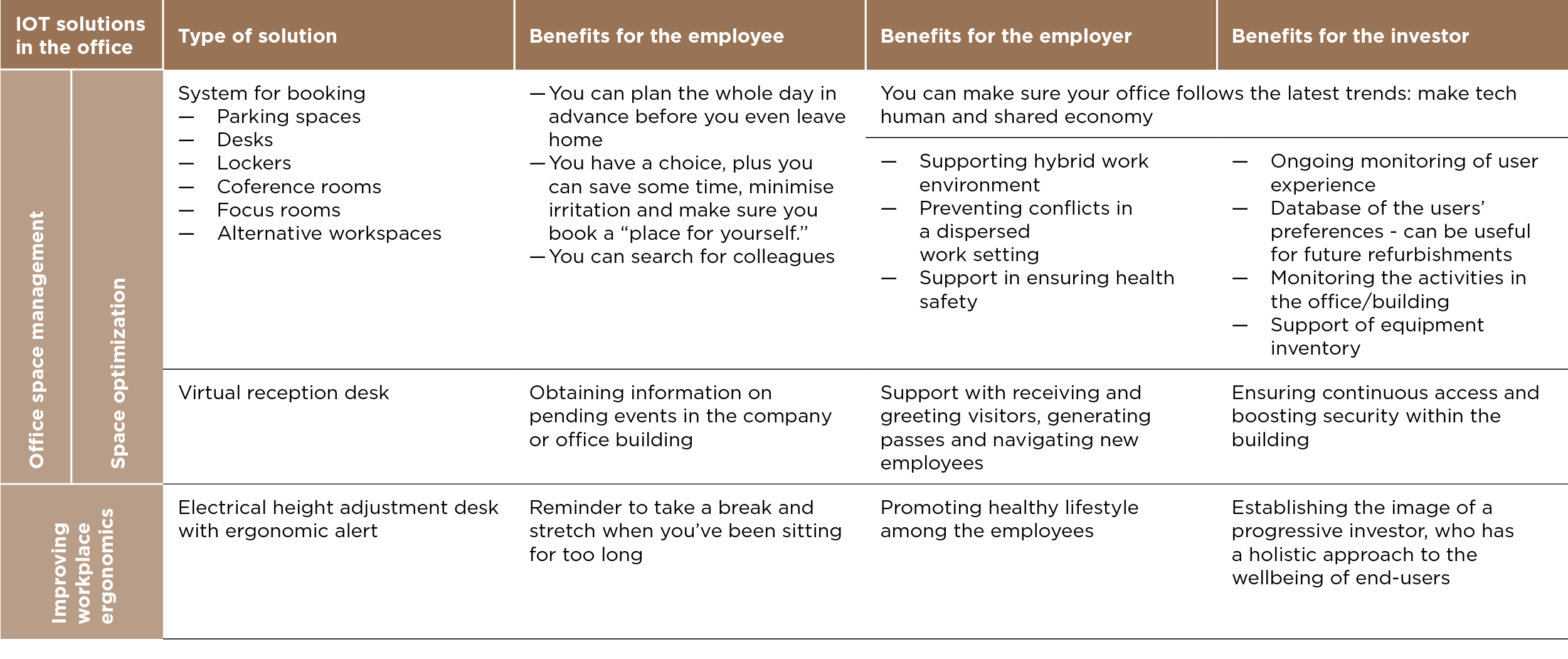 The future of IoT in the office
In the future, we will notice more and more solutions that support hybrid work. Such solutions will be useful when you want to make sure those who work remotely don't feel excluded or when you want to hold an ad hoc meeting. Others will help you boost equality standards among the participants – so that you can hold professional online meetings with clients. The solutions will include video-call systems for online meetings hosted at the office, as well as wireless mobile solutions for remote work.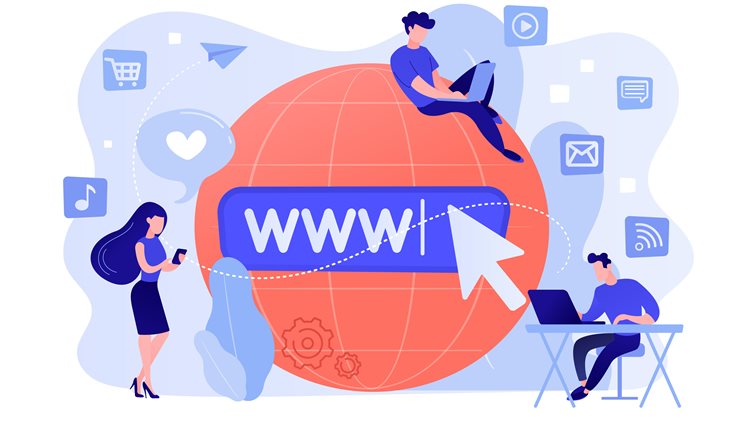 A company known as Meta is in the process of developing a bold concept for combining IoT with office work. The project is supposed to make virtual reality accommodate both everyday private interactions and work environment. With a VR headset, you can experience alternative reality and hold brainstorming sessions with your team there.
A trend or investment in future development?
The most profound technologies are those that disappear. They weave themselves into the fabric of everyday life until they are indistinguishable from it.
Mark Weiser
commonly recognised as the father of the omnipresent IT, whose ideas continue to impact many of the world's leading scientists
Just like the first IoT solutions became an extension of our hands, those designed for the office will soon be treated as an indisputable standard. That's why, considering current trends and the employees' preferences, it's a good idea to invest in IoT solutions, in order to create modern, effective, and appealing workspaces, which will attract both clients and employees.

Are you thinking of boosting your workspace with IoT solutions? Is your company still functioning in a remote system and you'd like to encourage your employees to return to the office? Or maybe you're already into hybrid work and would like to improve your office space to make the most of a dispersed workforce?

We believe a perfect office is more than just a magnificent interior. It's a space that brings together various generations, and preferences, and creates a favourable environment for a variety of processes. All of these factors have a key role in creating the office personality. That's why you need a complex approach to make your workspace efficient. With our extensive experience in adapting workspaces to hybrid work, as well as a versatile portfolio of products and numerous collaborations with technology providers, we can adjust your office to the challenges posed by the new reality.
Are you planning a change or refurbishment?
Get in touch with our Workplace Consulting team, who will help you adjust your office to meet the needs of your clients and employees.