We know how to accommodate sound in your office
Do you know that acoustics in the office is just as important to the employees as a comfortable chair? Sound affects the way we feel. Noise causes stress and distraction, and dramatically reduces our efficiency. It's good to remember that office design doesn't end with the visual or functional aspect. We also get to choose the sound quality. We know how to accommodate sound in your office. Our special acoustic research and consulting service can work miracles for your workplace!

For more than 30 years we've been assisting companies all over the world in arranging office and public spaces. Our experience proves it's possible to achieve utmost comfort at work with properly designed space and a deliberate selection of furniture. When arranging office space, we can shape and modify the visual and ergonomic aspects, as well as the acoustic setting.

A proper spatial plan and relevant solutions will help you affect the quality of sound in your office: this is how you ensure optimum sound absorption, isolation, and transmission.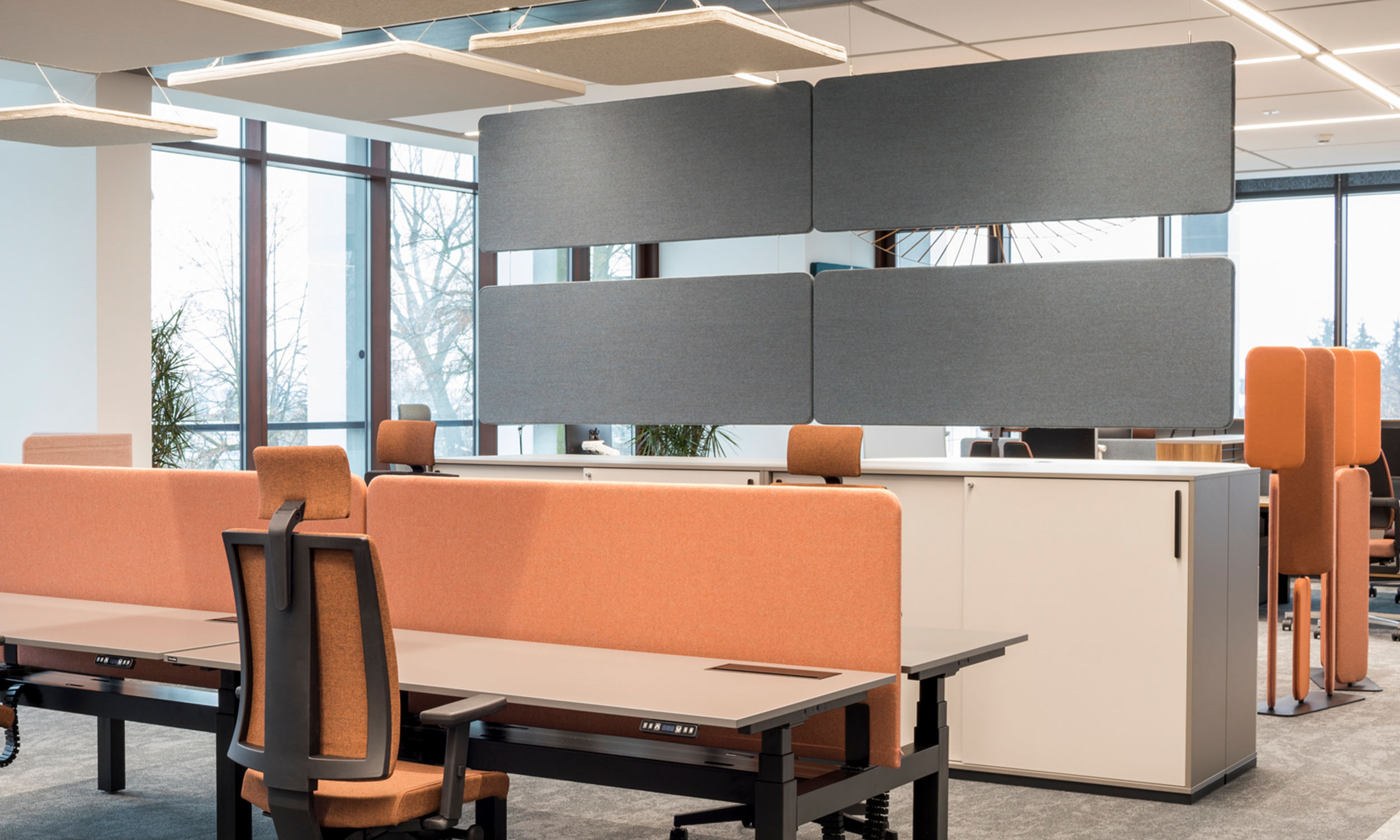 How do you ensure perfect acoustics in your office?

There are certain objective sound parameters we rely on to analyse and evaluate the acoustic aspect of any space. Experts have come up with recommendations and standards to define e.g. the reverberation time, needed for the sound to fade away in an enclosed area. This is one of the basic parameters used to describe the acoustic properties of a closed space. If the recommended values are exceeded, the users are likely to experience discomfort, the office itself will become a noisy place, and it will be hard to make out spoken words. To improve the overall acoustic quality of an office, you need to address the individual parameters of the space.
A properly arranged office will accommodate individual focus work in special zones, as well as brainstorming sessions that don't offer a distraction to others. If you can hear a phone ringing on the other side of an open-space office or find another reason to believe the acoustic aspect of your workplace leaves a lot to wish for, it's a good idea to use the help of our specialists to identify the issues and find a solution.
Katarzyna Bereźnicka
Acoustic Consultant for Nowy Styl
How do we do it?

With their extensive knowledge and experience, our specialists can design the acoustic aspect of an office to make it a comfortable, nourishing space for all employees, regardless of the nature of their work.

We perform calculations and simulations of all the office spaces. To this end, we use advanced numerical methods, to choose the best acoustic products to address the issues identified in the previous stage. We rely on state-of-the-art specialist measuring equipment to define the acoustic parameters of the office. Based on these measurements, we conduct an in-depth analysis of the entire space and prepare a detailed acoustic design.

We have the knowledge to come up with acoustic products accommodating Kundt's tube, which we use to test various materials and systems before we push them to the production stage. This is how we create effective acoustic solutions, which are a prominent part of our product portfolio.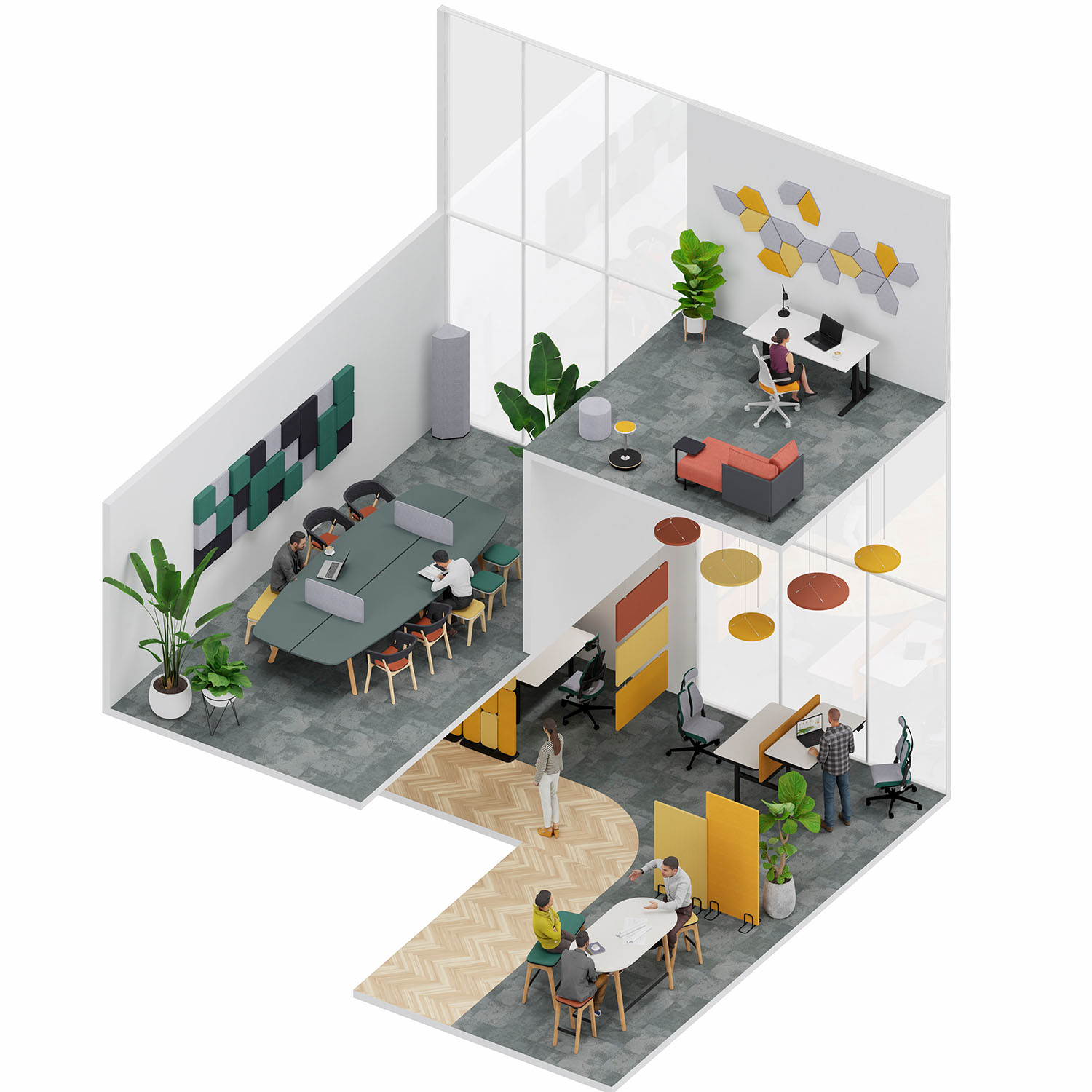 A comprehensive approach to the change process

At Nowy Styl, we foster an end-to-end approach to projects! We support our clients from the very beginning: we study the workspace, perform an acoustic analysis, design the office layout, and then smoothly move to the production, warehousing, transport, and assembly stages. On top of this, we train the employees in ergonomics and test their satisfaction with the new office design. We guarantee effective collaboration, and we know how to come up with a space that fosters everybody's health, comfort, and well-being. This is soon translated into soaring business results.
We can offer individual support and organise a customised audit for each company, considering not only the available space but also the employees' preferences, habits, and processes they are engaged in.
Karolina Manikowska
Director of the Workplace Research and Consulting Department
And there's more! We like to share our knowledge with the world in numerous publications designed to educate and inspire others. On our website, in the Knowledge tab, you will find a report titled 8 myths of acoustics. How to design the invisible? Download it to find out how to avoid wrong decisions related to the acoustic adaptation of your workspace.

Acoustic testing and consulting is just one element of the extensive Nowy Styl service portfolio, designed to help you make the most of your office space. Learn more about our know-how on our website.

Would you like to adjust your office to the various needs of your employees? Our experienced team of experts in acoustics can help you achieve the goal.

Let's make your space together
Fill in the contact form to get in touch with us: