4F - now centralised and furnished with Nowy Styl!
OTCF is a company that designs, makes and sells sportswear, footwear and accessories for sports professionals and amateurs. It owns a few brands, the major one being 4F. Previous company offices in Kraków and Wieliczka have now been merged into a single space in The Park Kraków facility. The interior design was prepared by the Trzop Architekci studio, whereas Nowy Styl provided ergonomic and modern furniture solutions.
OTCF has always been an important client for us – not only because the brand is big and recognisable in Poland and abroad, but also because they share a set of values with us, such as the love of sport, which is manifested by Nowy Styl in a number of ways: we sponsor sports clubs and professionals and provide furniture to stadiums all over the world.
Estera Masłowiec
Sales Manager at Nowy Styl
Since OTCF is a manufacturer and designer of sportswear, the main inspiration for their office was the most notable and prestigious sports event in the world - the Olympics. The colours of individual office floors are a reference to the five circles on the Olympic flag.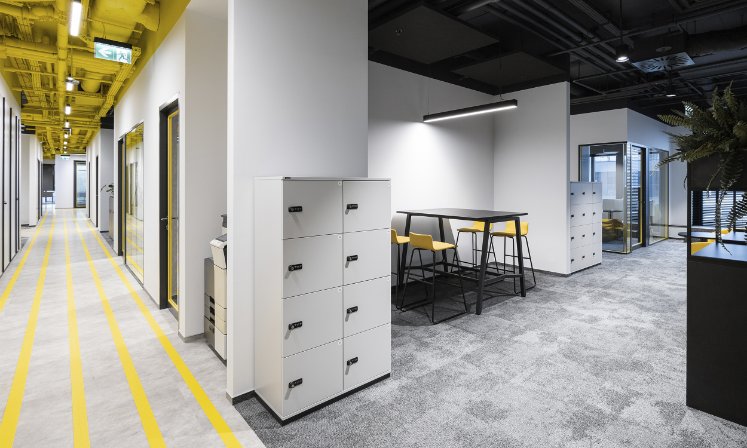 We wanted to come up with a flexible office space, adjusted to our current needs, so that our staff can use ergonomic workstations and engage in a hybrid work model thanks to the deliberate space design, which accommodates a variety of zones and special areas. The key thing was for the office to be intuitive and user-friendly so that all of us can feel comfortable there.
Wojciech Mikulski
Member of the OTCF S.A. Board
The newly designed office has functional work and meeting zones, a modern lab for the quality department, a workshop for apparel and footwear design, sewing rooms, a photo studio, and a showroom featuring all the OTCF brands. The workstations designed by the architects for focus work and creative work in smaller or bigger groups boost the chance of positive results of individual and team efforts. The solutions chosen for individual zones include electrical height adjustment desks CS5040 and eRange, large CS5040 tables and comfortable chairs - Souly, Xilium, Lupino, Naudu and others.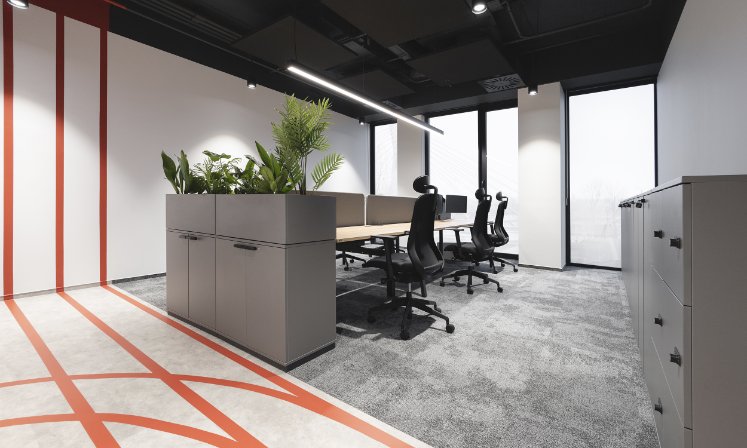 The choice of products that give the user a chance to switch between a sitting and standing position, or wide adjustment options in the chairs – both of these decisions prove that the investor prioritises the employees' health and aims at ergonomic comfort. Needless to say, this is only too natural for a company that owns sports brands. Plants in special constructions under the ceiling are a reminder of the sustainable attitude and environment-friendly focus, both of which are prominent in the company's policy.
When creating the new office space, we opted for multifunctional meeting rooms with modern multimedia equipment, which will accommodate both internal team meetings and external events with contractors and business partners. Internal communication, mobile partition walls and modern design enhanced with carefully chosen elements of décor make the space coherent, functional and user-friendly.
Wojciech Mikulski
Member of the OTCF S.A. Board
One characteristic element that connects all the office floors is the internal staircase, which leads to a large canteen on top. This is a great place for integration, where all teams can get together, engage in creative brainstorming and come up with a league of groundbreaking ideas.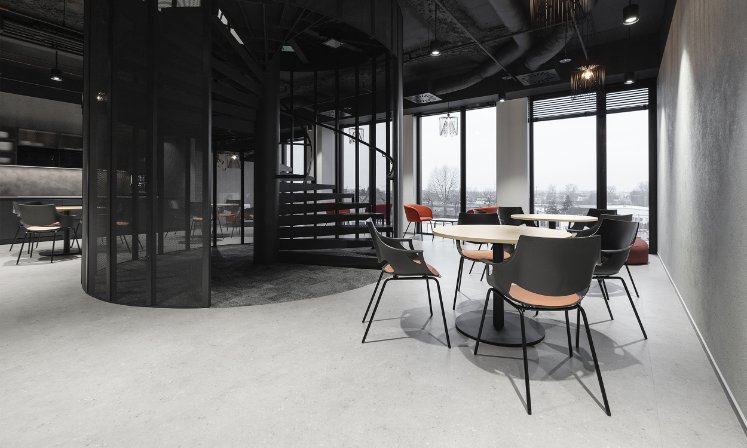 Positive collaboration, similar vision and complete involvement of the client and the architectural studio were essential for us to create this modern, dynamic office, which reflects the evolution of the brand and becomes the hub where excellent ideas will originate.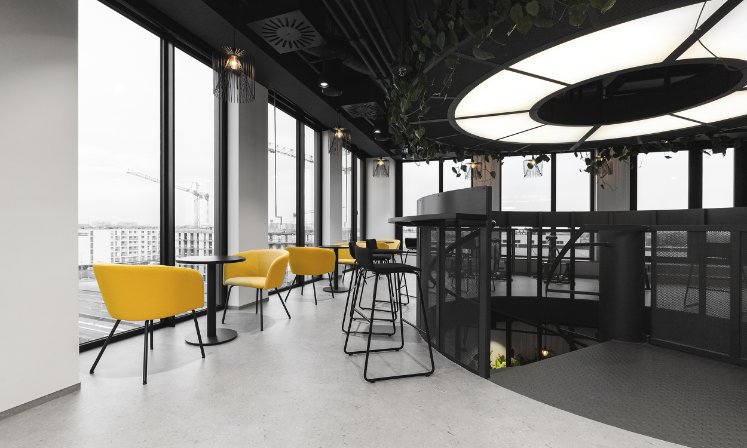 While working with Nowy Styl we expected one-hundred-per-cent involvement. The professional and flexible team met our expectations, starting from specific suggestions for furniture solutions, to the implementation and assembly on-site. The cooperation was smooth and hassle-free, and the furniture provided by the company is comfortable and user-friendly.
Wojciech Mikulski
Member of the OTCF S.A. Board
Collaboration with OTCF was an interesting challenge, there can be no doubt about it. Nowy Styl follows the motto: "Make your space together", and this time we can say we definitely did - this is the space we made together. Communication and perfect understanding come together in this beautiful, comfortable and well-furnished space, which accommodates a variety of zones for employees.
Tomasz Zaremba
Design Sales Director at Nowy Styl
Let's make your space together
Build your new space with a socially responsible company